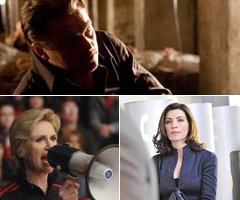 Satellite Awards 2010: nomination per Inception, Glee e The Good Wife
Il film di Nolan ha conquistato undici candidature per la 15esima edizione del premio. Seguono 127 Hours e The Social Network, rispettivamente con 9 e 7 candidature. Per il piccolo schermo nomination equamente divise tra Glee e The Good Wife.
Sono state annunciate le candidature della 15esima edizione dei Satellite Awards che saranno attribuiti il 19 dicembre nel corso di una cerimonia che si terrà a Century City, in California.
Ad aggiudicarsi il maggior numero di nomination, distribuite sulle ventidue categorie riservate al cinema, è lo spettacolare Inception di Christopher Nolan, che ne ha ottenute 11, seguito da 127 Ore di Danny Boyle, con 9 nomination, quindi da The Social Network con 7 e The King's Speech con 6. Solo 5 candidature per pellicole come Alice in Wonderland, l'attesissimo Cigno nero - Black Swan - che debutta proprio questo weekend negli USA - The Town, l'adrenalinico Unstoppable - Fuori controllo e I ragazzi stanno bene. Nei giorni scorsi 127 Hours è stato presentato al Festival di Torino, ottenendo anche in questa circostanza, ampio consenso da parte della critica, sia per quanto riguarda la regia di Boyle che per l'interpretazione di James Franco, che tra l'altro è stato scelto per condurre la prossima edizione degli Academy Awards.
Per quanto riguarda il piccolo schermo, a dominare le dodici categorie riservate alla televisione sono la hit series Glee e The Good Wife - entrambi con cinque candidature - seguiti da Mad Men e dalla miniserie Temple Grandin - Una donna straordinaria, interpretata da Claire Danes, con quattro.
A seguire un elenco delle categorie principali:

Satellite Awards 2010: lista nomination
---