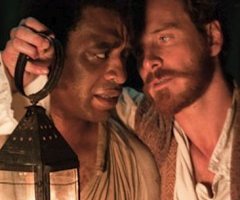 Satellite 2014: dieci nomination per 12 anni schiavo
La International Press Academy tributa il maggior numero di nomination al film di Steve McQueen, il superfavorito della Oscar Race. A otto candidature ci sono Gravity e American Hustle. Guidano invece la tally televisiva Breaking Bad, House of Cards e Orange is the New Black.
Arriva dicembre, e l'Awards Season entra finalmente nel vivo: la settimana che prevede appuntamenti importanti con il New York Film Critics' Circle e con il National Board of Review si apre con le nomination ai Satellite Awards, i premi determinati dai giornalisti membri della International Press Academy che saranno consegnati, per questa edizione, il prossimo 9 marzo (una settimana dopo gli Academy Awards).
A guidare la conta delle nomination c'è il superfavorito di questa prima parte dell'Awards Season 12 anni schiavo di Steve McQueen, con dieci menzioni, tra cui quella per il miglior film, per la regia, e tre per le interpretazioni (Chiwetel Ejiofor, Lupita Nyong'o e Michael Fassbender). Seguono a otto nomination ciascuno Gravity e American Hustle - L'apparenza inganna, con il primo che spopola nelle categorie tecniche e il secondo che bilancia con un bel poker nelle categorie attoriali con le sue star Christian Bale, Amy Adams, Jennifer Lawrence e Bradley Cooper.
In ambito televisivo, a guidare la tally con quattro menzioni ciascuno sono Breaking Bad, House of Cards e la comedy Orange is the New Black.
Ma ecco l'elenco completo delle nomination cinematografiche ai 18simi Satellite Awards:

Satellite Awards 2014: lista nomination
---
Miglior film

---

Migliore attore protagonista

---

Migliore attrice protagonista

---

Miglior attore non protagonista

---

Migliore attrice non protagonista

---

Migliore regia

---

Migliore sceneggiatura originale

---

Migliore sceneggiatura non originale

---

Migliore colonna sonora

---

Miglior canzone originale

---

Miglior film straniero

---

Miglior film d'animazione o a tecnica mista

---

Miglior documentario

---

Migliore fotografia

---

Miglior montaggio

---

Miglior sonoro

---

Migliore scenografia

---

Migliori costumi

---

Migliori effetti speciali

---

Miglior Serie TV (dramma)

---

Miglior Serie TV (commedia o musical)

---

Miglior serie o miniserie TV di genere

---

Miglior Miniserie o Film per la TV

---

Miglior attore (Serie TV - Dramma)

---

Miglior attrice (Serie TV - Dramma)

---

Miglior attore (Serie TV - Musical o commedia)

---

Miglior attrice (Serie TV - Musical o commedia)

---

Miglior attore (Miniserie o film per la tv)

---

Miglior attrice (Miniserie o film per la tv)

---

Miglior attore non protagonista (Serie TV, Miniserie o Film TV)

---

Miglior attrice non protagonista (Serie TV, Miniserie o Film TV)

---

Migliore performance dell'intero cast (film)

---

Migliore performance dell'intero cast (TV)

---

Breakthrough Performance Award

---

Sophie Nélisse per Storia di una ladra di libri

Auteur Award

---

Humanitarian Award

---

Nikola Tesla Award In Recognition of Visionary Achievement in Filmmaking Technology

---

Mary Pickford Award for Outstanding Artistic Contribution to the Entertainment Industry:

---

Honorary Satellite Award

---