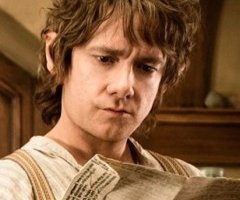 Saturn Awards 2013: Lo Hobbit guida le nomination
Il film di Jackson si piazza a quota nove. Seguono Vita di Pi e Skyfall con otto e sette nomination. In ambito televisivo Fringe guida le candidature a quota sei.
Anche l'Academy of Science Fiction, Fantasy & Horror Films si prepara a decretare i suoi vincitori dell'anno. Per cominciare sono state appena diffuse le nomination che vedno svettare in testa alla classifica Lo Hobbit: un viaggio inaspettato di Peter Jackson. Il colossal neozelandese si aggiudica nove candidature, seguito a ruota dallo spettacolare Vita di Pi (otto candidature) e dall'inglese Skyfall (sette candidature). Tra i candidati a miglior pellicola sci-fi dell'anno troviamo l'hit The Avengers, il thriller Looper, la fantascienza 3D di Prometheus, la sorpresa Chronicle, l'acclamato Hunger Games e la pellicola-fiume Cloud Atlas. Il fantasy vedrà scontrarsi il blockbuster The Amazing Spider-Man, Lo Hobbit: un viaggio inaspettato, Vita di Pi, Biancaneve e il cacciatore, ma anche gli outsider Ruby Sparks e Ted. Nella categoria horror/thriller compaiono, invece, gli acclamati Argo e Zero Dark Thirty, The Impossible di Juan Antonio Bayona, ma anche il terrificante Quella casa nel bosco, il gotico The Woman in Black e l'ironico 7 psicopatici.
Altrettanto eclettici i nomi dei registi in gara. Si va dai più blasonati Peter Jackson, Christopher Nolan e Joss Whedon all'emergente Rian Johnson passando per il veterano William Friedkin, nominato per l'agghiacciante Killer Joe, fino ad Ang Lee. Per quanto riguarda la tv, Fringe guida la classifica delle nomination a quota sei, seguito da Dexter, ma si fanno notare anche Breaking Bad, Falling Skies, Leverage e The Walking Dead.
"Dalla grande avventura de Les Miserables alla fantasia visionaria di Vita di Pi e al magico realismo di Re della terra selvaggia, i film di quest'anno superano la nozione di genere e ci portano visioni straordinarie di una realità trasfigurata o eccessiva, rendendo questa annata una delle più intriganti per i Saturn Awards" ha dichiarato il presidente dell'Academy Robert Holguin.
Di seguito l'elenco completo delle nomination cinematografiche e televisive:

Saturn 2013: lista nomination
---
Miglior film di fantascienza

---

Miglior film fantastico

---

Miglior film horror/thriller

---

Miglior film d'azione/avventura

---

Miglior film indipendente

---

Miglior attore

---

Miglior attrice

---

Miglior attore non protagonista

---

Miglior attrice non protagonista

---

Miglior interpretazione di un attore giovane

---

Miglior regista

---

Miglior sceneggiatore

---

Miglior colonna sonora

---

Miglior montaggio

---

Migliori effetti speciali

---

Migliore scenografia

---

Miglior trucco

---

Migliori costumi

---

Miglior film straniero

---

Miglior film d'animazione

---

Miglior serie di un network

---

Miglior serie di un canale via cavo

---

Migliore serietv per ragazzi

---

Miglior prodotto televisivo

---

Miglior attore in una serie o film TV

---

Miglior attrice in una serie o film TV

---

Miglior attore non protagonista in una serie o film TV

---

Miglior attrice non protagonista in una serie o film TV

---

Migliore guest star in una serie tv

---

The Filmmakers Showcase Award

---

The Milestone Award

---

The Innovator Award

---

Premio alla carriera

---