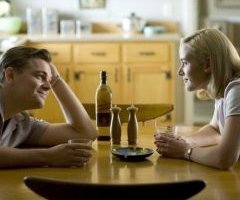 Satellite Awards: le nomination per il 2008
La International Press Academy ha annunciato le sue candidature per l'annata cinematografica che sta per concludersi. Particolarmente in vista The Reader, Revolutionary Road, The Millionaire e Frost/Nixon.
Sono state annunciate nel week end le candidature ai 13. Satellite Awards, i premi consegnato dalla International Press Academy. Una valanga di categorie in cui sono ricordati tutti o quasi i film che stanno mostrando in queste settimane potenzialità per fare bene durante la stagione degli awards.
I Satellite, che non vantano una particolare influenza sulla corsa all'Oscar, ma, arrivando all'inizio della awards season, servono a "scaldare i muscoli", sembrano privilegiare quest'anno i drammi intimi e psicologici rispetto alle grandi produzioni sfarzose: così Australia di Baz Luhrmann ottiene 9 candidature ma non è menzionato nelle categorie principali, e il fenomeno commerciale dell'anno, Il cavaliere oscuro di Christopher Nolan, non riceve la nomination a Miglior film, ma concorrerà per la migliore regia e non manca la nomination al compianto Heath Ledger, che la Warner sta promuovendo come migliore attore non protagonista per l'agghiacciante interpretazione del Joker.
Il sestetto delle pellicole che si contenderanno il Satellite Award per il miglior film sono The Millionaire, The Reader, Milk, Frost/Nixon, Revolutionary Road e Frozen River.
Nelle categorie dedicate alle produzioni televisive, a imporsi sono In Treatment tra le serie drammatiche e il trionfatore delgi Emmy, 30 Rock, tre le commedie.
Ma ecco l'elenco completo delle candidature ai Satellite 2008, che saranno consegnati il prossimo 14 dicembre.

Satellite Awards 2008: lista nomination
---