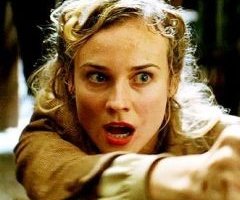 SAG 2010: le nomination del sindacato degli attori
La stagione degli awards prosegue con le nomination del primo Guild, il SAG. A ottenere più menzioni da parte degli attori di Hollywood sono Bastardi senza gloria, Tra le nuvole e Precious.
Con le nomination agli Screen Actors Guild Awards, arrivano i primi dati che possono dare qualche indicazione sulle future scelte dell'Academy of Motion Picture Arts and Science, dato che una (piccola) parte dei membri del Guild attoriale fanno parte anche dell'AMPAS. Queste nomination, tuttavia, sono piuttosto in sintonia con quelle ai Golden Globe, anche nelle menzioni più discutibili (leggi Sandra Bullock). A uscirne rafforzati sono ovviamente i tre film che ottengono il maggior numero di candidature, tre, un ottimo numero nel caso di premi con poche categorie come i SAG. Anzitutto Tra le nuvole di Jason Reitman e Precious di Lee Daniels, assodati frontrunner con chance eccellenti in particolare nelle categorie interpretative; ma a stupire è ancora una volta Bastardi senza gloria di Quentin Tarantino che, oltre a conquistare la menzione per l'intero cast e a mandare in nomination il meritatamente favorito della categoria Miglior attore non protagonista, Christoph Waltz, conquista anche un posto per la bella Diane Kruger.
Il musical dal supercast Nine, invece, deve accontentarsi della candidatura per l'ensemble e della menzione a Penelope Cruz.
Per il resto, i membri del SAG restituiscono il dovuto a Jeremy Renner, applauditissimo protagonista di The Hurt Locker, e confermano lo status di semi-lock per interpreti quali Meryl Streep (Julie & Julia), Carey Mulligan (An Education), Colin Firth (A Single Man), Morgan Freeman (Invictus) e George Clooney (Tra le nuvole).
Per quanto riguarda le categorie dedicate alla TV, ancora una volta ci troviamo costretti a dire che la musica non cambia: tra le novità emergono, tra le comedy series, Glee e Modern Family, candidati per l'ensemble, e The Good Wife tra le serie drammatiche.
Ma ecco l'intero elenco delle nomination ai 16. SAG Awards:

SAG 2010: lista nomination
---