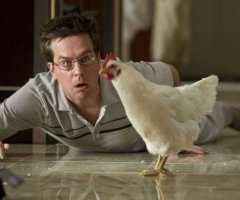 MTV Movie Awards 2010: nomination da leoni!
Sei candidature per Una notte da leoni, ai premi cinematografici del network musicale, e cinque per New Moon e Avatar. I premi saranno consegnati il 6 giugno.
Un'edizione che si può definire sorprendente, quella dei MTV Movie Awards 2010: non solo grandi successi commerciali, tra le nomination del premio, ma anche interpreti e titoli che hanno riscosso il consenso della critica, oltre che del pubblico, come Precious e Tra le nuvole. Ad ottenere il maggior numero di candidature, quest'anno, è la divertente e scatenatissima commedia Una notte da leoni, per la quale è stato già annunciato un sequel. In particolare, due nomination sono andate all'irresistibile Zach Galifianakis, sia nella categoria riservata alle migliori star emergenti, che quella per le performance comiche più convincenti. Cinque candidature inoltre, sono andate prevedibilmente a New Moon e Avatar, che tra l'altro concorrono nella categoria per il miglior film dell'anno insieme ad Alice in Wonderland di Burton, Harry Potter e il Principe Mezzosangue e Una notte da leoni.
Accanto a candidature più scontate - Kristen Stewart, Emma Watson, Taylor Lautner, Zac Efron e Daniel Radcliffe - si affiancano anche quelle meno "commerciali" che sono andate ad Anna Kendrick, Gabourey Sidibe e Christoph Waltz. Sandra Bullock, che sta attraversando un periodo sicuramente felice dal punto di vista professionale (un po' meno da quello privato), è in nomination sia con Ricatto d'amore che con The Blind Side.
Tra le nuove categorie inaugurate quest'anno, quella riservata alle "superstar planetarie" - Johnny Depp, ma anche le star di Twilight e Harry Potter - e quella per la miglior performance da brivido che comprende pellicole come Drag Me to Hell, il divertente Benvenuti a Zombieland e Paranormal Activity.
MTV Movie 2010: lista nomination
---