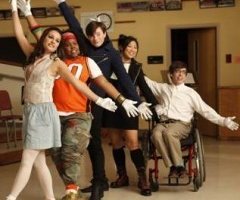 Emmy 2010: per Glee e The Pacific, pioggia di nomination
Il dramma bellico targato HBO e la serie musicale della Fox, vera rivelazione dell'ultima stagione televisiva, hanno fatto incetta di candidature agli ultimi Emmy Awards.
Edizione numero 62 per gli Emmy Awards, storico e prestigioso riconoscimento americano riservato al piccolo schermo: buona parte delle nomination di quest'anno, come ampiamente previsto sono andate a Glee, la vera rivelazione televisiva della scorsa stagione, ma anche a The Pacific, war drama seriale targato HBO che ha ricevuto ampio consenso da parte della critica, come d'altra parte anche il serial di Ryan Murphy.
The Pacific può contare su ben 24 candidature, mentre Glee su 19; al terzo posto delle serie più candidate, quest'anno c'è Mad Men, con 17 nomination, e a seguire, Temple Grandin, la divertente 30 Rock e You Don't Know Jack con 15. Tra le candidature ottenute da Glee - che continua a far parlare di sè, tra episodi speciali (quello su Madonna), possibili guest-star prestigiose, vendite degli album e altro ancora - figurano quelle per la miglior serie brillante, e quelle per le interpretazioni di Matthew Morrison e della talentuosa Lea Michele.
Gli Emmy saranno consegnati il 29 agosto, nel corso di una cerimonia che si terrà al Nokia Theatre, che sarà trasmessa dalla NBC.
Di seguito, le candidature assegnate per le categorie principali:

Emmy 2010: lista nomination
---