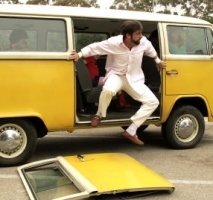 Le nomination agli Independent Spirit 2007
I due film più nominati per quest'anno sono la commedia Little Miss Sunshine e il dramma Half Nelson.
La stagione degli award inizia a entrare nel vivo grazie alle nomination agli Independent Spirit, i più importanti premi del circuito indie, che ogni anno celebrano i piccoli film (dalla scorsa edizione sono ammessi solo quelli con un budget inferiore ai venti milioni di dollari) più meritevoli della stagione. E quest'anno i film che hanno raccolto il maggior numero di nomination sono indubbiamente tra i più amati dalla critica e dal pubblico degli intenditori: si tratta di Little Miss Sunshine, la deliziosa commedia on the road con protagonisti Steve Carell, Abigail Breslin, Toni Collette e Greg Kinnear, e Half Nelson, dramma che vanta un ottimo Ryan Gosling come leading man. I due film hanno conquistato cinque nomination ciascuno, tra cui quella al premio per il miglior film, cui concorreranno anche American Gun, The Dead Girl e Il labirinto del fauno.
Anche nella categoria della migliore regia i due film conquistano la candidatura, e accanto a Jonathan Dayton e Valerie Farris (registi di Little Miss Sunshine) e a Ryan Fleck (autore di Half Nelson) e a Karen Moncrieffm, candidata per The Dead Girl, compaiono in questa categoria personaggi di notevole levatura: Steven Soderbergh per Bubble, e il recentemente scomparso Robert Altman per Radio America.
Gli Independent Spirit Awards saranno consegnati il giorno 24 febbraio, ovvero, come da tradizione, il giorno prima degli Oscar.
Ma ecco l'elenco completo delle nomination:
Spirit 2007: lista nomination
---