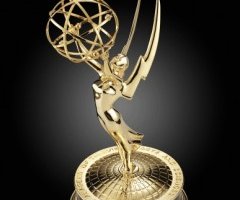 Emmy 2013: tutte le nomination
Ancora un'edizione dominata da celebri serie come Breaking Bad, Homeland e 30 Rock, ma la concorrenza di cult come Il trono di spade si fa più minacciosa.
Pochi minuti fa (le 05:35 del mattino ora locale), in diretta dal Leonard H. Goldenson Theatre di North Hollywood sono state annunciate le nomination degli Emmy, premi dedicati alle migliori serie televisive dell'anno. La 65° cerimonia di consegna, condotta da Neil Patrick Harris, si svolgerà il 22 settembre ed andrà in onda sulla Cbs. Ad annunciare le nomination avrebbero dovuto essere la bella Kate Mara e la star di Breaking Bad Aaron Paul, ma l'aereo che avrebbe dovuto riportare Kate Mara a Los Angeles ha avuto un guasto e Neil Patrick Harris ha sostituito la collega all'ultimo momento.
Partiamo dalle categorie più attese: per quanto riguarda la le migliori serie drammatiche, come previsto lo scontro sarà tra il pluripremiato Breaking Bad, l'amatissimo Il trono di spade, Mad Men, Homeland, Downton Abbey e l'outisider House of Cards. Tra le serie comiche le più accreditate sono le veterane 30 Rock, The Big Bang Theory e Modern Family, ma anche il più recente Veep.
Scontro tra titani nella categoria miglior attore drammatico dove la scelta si divide tra il veterano Bryan Cranston e il talentuoso Kevin Spacey, mefistofelico politico in House of Cards, ma il buon Jon Hamm/Don Draper è sempre in agguato. Per quanto riguarda le donne puntiamo sullo scontro tra la "regina" Claire Danes e Vera Farmiga, protagonista di Bates Motel, ma sono in molti a festeggiare la nomination per la bravissima Kerry Washington. Le simpatiche Tina Fey ed Amy Poehler, compagne di conduzione agli Oscar, si contendono il premio per la miglior attrice protagonista di una serie comiche, mentre in ambito maschile troviamo in nomination i colleghi Alec Baldwin, Jason Bateman (Arrested Development), Matt LeBlanc (Episodes) e l'amatissimo Jim Parsons di The Big Bang Theory.
I cinefili doc seguiranno con attenzione lo scontro per miglior protagonista di miniserie o film tv in cui si consuma lo scontro tra titani tra l'inglese Benedict Cumberbatch, protagonista della miniserie inglese Parade's End, le star di Behind the Candelabra Michael Douglas e Matt Damon e il divo Al Pacino, chiamato a incarnare il controverso Phil Spector. Infine ci fa piacere segnalare le nomination a Michael J. Fox, miglior guest nella serie drammatica The Good Wife, e alla veterana Betty White, decana di Hollywood.
Ecco una lista delle nomination delle categorie più importanti:

Emmy 2013: lista nomination
---
Miglior serie comica

---

Miglior serie drammatica

---

Miglior miniserie o film TV

---

Miglior attore protagonista in una serie comica

---

Miglior attore protagonista in una serie drammatica

---

Miglior attore protagonista in una miniserie o film TV

---

Miglior attrice protagonista in una serie comica

---

Miglior attrice protagonista in una serie drammatica

---

Miglior attrice protagonista in una miniserie o film TV

---

Miglior attore non protagonista in una serie drammatica

---

Migliore attore non protagonista in una serie comica

---

Miglior attore non protagonista in una miniserie o film TV

---

Miglior attrice non protagonista in una serie drammatica

---

Miglior attrice non protagonista in una serie comica

---

Miglior attrice non protagonista in una miniserie o film TV

---

Miglior programma d'animazione

---

La tazza parlante ( episodio 3x15, Bob's Burgers )

Enter the Dragon ( episodio 2x07, Kung Fu Panda - Mitiche avventure )

The Christmas Special ( episodio 4x07, Regular Show )

La paura fa novanta XXIII ( episodio 24x02, I Simpson )

Miglior programma d'animazione di breve durata

---

Miglior attore Guest in una serie comica

---

Miglior attore Guest in una serie drammatica

---

Miglior attrice Guest in una serie comica

---

Miglior attrice Guest in una serie drammatica

---

Migliori effetti speciali per una serie

---

Miglior sceneggiatura per una serie comica

---

Miglior sceneggiatura per una serie drammatica

---

Miglior sceneggiatura per una miniserie o Film TV

---

Miglior regia per una serie comica

---

Miglior regia per una serie drammatica

---

Miglior regia per una miniserie o Film TV

---

Miglior fotografia per una miniserie o film per la tv

---

Miglior fotografia per una serie single-camera

---

Miglior fotografia per una serie multi-camera

---

Miglior scenografia per una serie single-camera

---

Miglior scenografia per una miniserie o film per la tv

---

Miglior scenografia per una serie multi-camera

---

Glenda Rovello per 2 Broke Girls

Steve Olson per How I Met Your Mother

John Shaffner per Due uomini e mezzo

Migliori costumi per una serie

---

Migliori costumi per una miniserie o film per la tv

---

Miglior sonoro per una serie tv comica o drammatica (un'ora)

---

Miglior sonoro per una miniserie o film per la tv

---

Miglior sonoro per una serie tv comica o drammatica (mezz'ora) e animazione

---

Miglior montaggio single-camera per una miniserie o film per la tv

---

Miglior montaggio single-camera per una serie comica

---

Miglior montaggio single-camera per una serie drammatica

---

Miglior montaggio sonoro per una serie

---

Miglior montaggio sonoro per una miniserie o film per la tv

---

Miglior trucco tradizionale per una serie multi-camera o show

---

Miglior trucco tradizionale per una serie single-camera

---

Miglior trucco tradizionale per una miniserie o film per la tv

---

Miglior trucco prostetico per una serie, miniserie o film per la tv

---

Migliori musiche per una serie (Colonna sonora drammatica originale)

---

Migliori musiche per una miniserie, film per la tv o special (Colonna sonora drammatica originale)

---

Migliore musica dei titoli di testa

---

Migliore canzone con musica e testo originale

---

Migliori titoli di testa

---

Miglior coordinamento stunt

---

Miglior casting per una serie comica

---

Miglior casting per una serie drammatica

---

Miglior casting per una miniserie o film per la TV

---

Migliori acconciature per una serie single-camera

---

Migliori acconciature per una miniserie o film per la tv

---

Migliori acconciature per una serie multi-camera

---

Miglior prodotto per ragazzi

---

Miglior performance Voice Over

---

Bob Hope Humanitarian Award

---

Miglior scenografia per un programma di varietà, musicale o comico

---

Miglior coreografia

---

Miglior fotografia per un programma di non-fiction

---

Miglior fotografia per un reality

---

Miglior regia per un varietà o programma TV comico

---

Miglior regia per un programma di non-fiction

---

Miglior montaggio per un programma di non-fiction

---

Miglior montaggio per un reality

---

Miglior programma di varietà, musicale o comico

---

Miglior speciale televisivo di varietà, musicale o comico

---

Miglior programma per bambini

---

Sheila Nevins per Renée Fleming: A YoungArts MasterClass

Dan Staley, Phil Baker, Drew Vaupen, Christopher Vane, Erika Kaestle, Patrick McCarthy, Jim Gerkin e Pixie Wespiser per Buona fortuna Charlie

Dan Schneider, Joe Catania, Jake Farrow e Bruce Rand Berman per iCarly

Sheila Nevins, John Hoffman e Nick Doob

The Weight of the Nation for Kids

Miglior programma per bambini non-fiction

---

Miglior programma speciale non-fiction

---

Miglior serie non-fiction

---

American Masters

The American Experience the Abolitionists

Through the Wormhole

Vice

Miglior reality

---

Miglior reality - show a premi

---

Miglior scrittura per un programma di varietà, musicale o comico

---

Migliori effetti speciali di supporto

---

Miglior scrittura per un programma di non-fiction

---

Miglior montaggio Multi-Camera per una serie comica

---