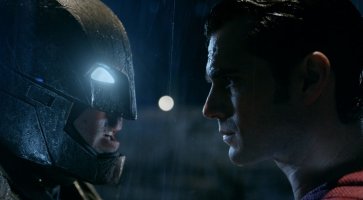 Razzie Awards 2017: Zoolander 2 e Batman v Superman dominano le nomination
I due film hanno ottenuto nove e otto candidature ai premi che celebrano il peggio proposto nei cinema.
La 37esima edizione dei Razzie Awards, i riconoscimenti dedicati al peggio proposto nelle sale cinematografiche negli ultimi 12 mesi, ha già i suoi primi protagonisti.
A dominare le nomination, rispettivamente con nove e otto potenziali premi, sono Zoolander 2 e Batman v Superman: Dawn of Justice.
Entrambe le pellicole sono in corsa come Peggior Film, categoria in cui sono presenti anche la commedia Nonno scatenato, il sequel Independence Day: Rigenerazione, Gods of Egypt e il documentario Hillary's America: The Secret History of the Democratic Party.
Tra i peggiori attori dell'anno ci sono Ben Affleck e Henry Cavill, Gerard Butler, Robert De Niro, Ben Stiller e Dinesh D'Souza. Nella categoria femminile ci sono invece Becky Turner nel ruolo di Hillary Clinton, Naomi Watts, Tyler Perry, Megan Fox, Shailene Woodley e Julia Roberts.
Ecco tutte le nomination:
Peggior Film
Batman v Superman: Dawn of Justice
Nonno Scatenato
Gods of Egypt
Hillary's America: The Secret History of the Democratic Party
Independence Day: Rigenerazione
Zoolander No. 2
Peggiore Attore
Ben Affleck / Batman v Superman: Dawn of Justice
Gerard Butler / Gods of Egypt & London Has Fallen
Henry Cavill / Batman v Superman: Dawn of Justice
Robert De Niro / Nonno scatenato
Dinesh D'Souza [as Himself] Hillary's America: The Secret History of the Democratic Party
Ben Stiller / Zoolander No. 2
Peggiore Attrice
Megan Fox / Tartarughe Ninja - Fuori dall'ombra
Tyler Perry / Boo! A Madea Halloween
Julia Roberts / Mother's Day
Becky Turner [nel ruolo di Hillary Clinton] Hillary's America: The Secret History of the Democratic Party
Naomi Watts / The Divergent Series: Allegiant & Shut In
Shailene Woodley / The Divergent Series: Allegiant
Peggiore Attrice Non Protagonista
Julianne Hough / Nonno scatenato
Kate Hudson / Mother's Day
Aubrey Plaza / Nonno scatenato
Jane Seymour / Cinquanta sbavature di nero
Sela Ward / Independence Day: Rigenerazione
Kristen Wiig / Zoolander No. 2
Peggiore Attore Non Protagonista
Nicolas Cage / Snowden
Johnny Depp / Alice attraverso lo specchio
Will Ferrell / Zoolander No. 2
Jesse Eisenberg / Batman v Superman: Dawn of Justice
Jared Leto / Suicide Squad
Owen Wilson / Zoolander No. 2
Peggior combinazione sullo schermo
Ben Affleck e il suo BFF (Baddest Foe Forever - Peggior Avversario Per Sempre) Henry Cavill / Batman v Superman: Dawn of Justice
Qualsiasi due divinità egizione o mortali / Gods of Egypt
Johnny Depp e il suo vomitevolmente vibrante costume / Alice Through the Looking Glass
L'intero cast composto da attori in passato degni di rispetto / Collateral Beauty
Tyler Perry e la stessa vecchia parrucca usata / Boo! A Madea Halloween
Ben Stiller e il suo BFF (Barely Funny Friend - Amico a mala pena divertente) Owen Wilson / Zoolander No. 2
Peggior Regista
Dinesh D'Souza e Bruce Schooley / Hillary's America: The Secret History of the Democratic Party
Roland Emmerich / Independence Day: Rigenerazione
Tyler Perry / Boo! A Madea Halloween
Alex Proyas / Gods of Egypt
Zack Snyder / Batman v Superman: Dawn of Justice
Ben Stiller / Zoolander No. 2
Peggior Prequel, Remake, Rip-Off o Sequel
Alice Through the Looking Glass
Batman v Superman: Dawn of Justice: Dawn of Justice
Cinquanta sbavature di nero
Independence Day: Rigenerazione Tartarughe Ninja - Fuori dall'ombra
Zoolander No. 2
Peggior Sceneggiatura
Batman v Superman: Dawn of Justice
Dirty Grandpa
Gods of Egypt
Hillary's America: The Secret History of the Democratic Party
Independence Day: Rigenerazione Suicide Squad