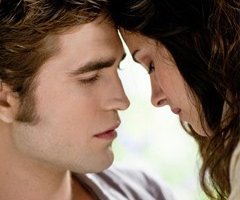 MTV Movie Awards 2011: pioggia di nomination per Eclipse
Il terzo capitolo della Twilight Saga è il film che ha ottenuto il maggior numero di candidature al premio targato MTV. A seguire Inception con sette nomination. La cerimonia di premiazione si terrà il 5 giugno e sarà condotta da Jason Sudeikis.
I vampiri di Twilight continuano a stregare gli MTV Movie Awards. Per l'edizione 2011 del premio targato MTV, il terzo capitolo della saga, The Twilight Saga: Eclipse ha ottenuto infatti ben otto candidature, da quelle più prestigiose - miglior film e le performance dei protagonisti - a quelle secondarie, tra cui il miglior bacio e la miglior sequenza di lotta.
A seguire, con sette nomination, il thriller Inception e poi Harry Potter e i doni della morte - parte 1, The Social Network e Il cigno nero rispettivamente con sei, cinque e quattro candidature. Alle categorie già note, se ne sono aggiunte di nuove, tra cui quella per la miglior battuta cinematografica, che vede contendersi il premio Un weekend da bamboccioni, Easy A, The Social Network e Inception.
La cerimonia di premiazione si svolgerà il 5 giugno sul palco del Gibson Amphitheatre di Universal City (California) e sarà condotta da Jason Sudeikis, star del Saturday Night Live. Le votazioni web - riservate al pubblico americano - si chiuderanno il 4 giugno.
MTV Movie 2011: lista nomination
---
Miglior film

---

Miglior interpretazione maschile

---

Miglior interpretazione femminile

---

Migliore perfomance in una commedia

---

Migliore rivelazione

---

Miglior frase da un film

---

Miglior bacio

---

Miglior cattivo

---

Miglior combattimento

---

Miglior momento 'shock' (Jaw-Dropping Moment)

---

Miglior interprete terrorizzato

---

Miglior duro

---

Superstar mondiale

---

MTV Generation Award

---