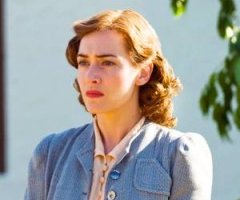 Emmy 2011: Mildred Pierce e Mad Men guidano la conta delle nomination
Sono state annunciate le candidature della Academy of Television Arts and Science: a guidare la conta c'è la miniserie Mildred Pierce, mentre tra le serie guida Mad Men.
Pochi minuti fa, i due presentatori d'eccezione Melissa McCarthy (tra l'altro candidata per Mike & Molly) e Joshua Jackson hanno annunciato le nomination ai 63. Primetime Emmys, i premi più importanti dedicati alla TV della fascia serale: come sempre, le nomination interessano moltissime tipologie di prodotti televisivi, dai TV movie ai serial, dai reality al varietà, ma ad avere qualche lunghezza di vantaggio su tutti, almeno in questa fase, sembra essere la miniserie Mildred Pierce, diretta da Todd Haynes e interpretata da Kate Winslet, che porta a casa HBO ben 21 menzioni da sola. La segue nella tally il fiore all'occhiello AMC, Mad Men, con 19 nomination, mentre subito dopo, a quota 18, c'è la grande novità dei serial drammatici dell'anno, Boardwalk Empire (ancora una produzione HBO).
Tra le comedy series la più nominata è Modern Family - che tra l'altro invade la categoria Miglior attore non protagonista in una serie comica con il vincitore uscente Eric Stonestreet e le sue co-star Ty Burell, Ed O'Neill e Jesse Tyler Ferguson - mentre tra gli show spicca sempre il longevo Saturday Night Live.
Gli Emmy 2011 saranno consegnati il prossimo 18 settembre, e a presentare la cerimonia di premiazione sarà la star di Glee Jane Lynch.
Ma ecco a seguire la lista completa delle nomination agli Emmy 2011:

Emmy 2011: lista nomination
---
Miglior serie comica

---

Miglior serie drammatica

---

Miglior miniserie o film TV

---

Miglior attore protagonista in una serie comica

---

Miglior attore protagonista in una serie drammatica

---

Miglior attore protagonista in una miniserie o film TV

---

Miglior attrice protagonista in una serie comica

---

Miglior attrice protagonista in una serie drammatica

---

Miglior attrice protagonista in una miniserie o film TV

---

Miglior attore non protagonista in una serie comica

---

Miglior attore non protagonista in una serie drammatica

---

Miglior attore non protagonista in una miniserie o film TV

---

Migliore attrice non protagonista in una serie comica

---

Miglior attrice non protagonista in una serie drammatica

---

Miglior attrice non protagonista in una miniserie o film TV

---

Miglior programma d'animazione

---

Buon Natale, felice Hanukkah ( episodio 2x08, The Cleveland Show )

Robot Chicken: Star Wars Episode III

The Late Philip J. Fry ( episodio 7x07, Futurama )

Papà incacchiato: il film ( episodio 22x14, I Simpson )

Associazione Atletica Crack Dipendenti ( episodio 15x05, South Park )

Miglior programma d'animazione di breve durata

---

Miglior attore Guest in una serie comica

---

Miglior attore Guest in una serie drammatica

---

Miglior attrice Guest in una serie comica

---

Miglior attrice Guest in una serie drammatica

---

Migliori effetti speciali per una serie

---

Migliori effetti speciali per una miniserie o film tv

---

Miglior sceneggiatura per una serie comica

---

Miglior sceneggiatura per una serie drammatica

---

Miglior sceneggiatura per una miniserie o Film TV

---

Miglior regia per una serie comica

---

Miglior regia per una serie drammatica

---

Miglior regia per una miniserie o Film TV

---

Miglior fotografia per una miniserie o film per la tv

---

Miglior fotografia per una serie single-camera

---

Miglior fotografia per una serie multi-camera

---

Steven V. Silver per Di nuovo soli ( episodio 8x04, Due uomini e mezzo )

Wayne Kennan per Uh-Oh It's Magic ( episodio 5x14, Le regole dell'amore )

Rick F. Gunter per Dancing with Angels ( episodio 4x08, I maghi di Waverly )

John Simmons per Return of the Kings ( episodio 1x01, Coppia di Re )

Donald A. Morgan per Figli delle stelle ( episodio 1x03, Vi presento i miei )

Chris La Fountaine per Senza speranza ( episodio 6x21, How I Met Your Mother )

Miglior scenografia per una serie single-camera

---

Miglior scenografia per una miniserie o film per la tv

---

Miglior scenografia per una serie multi-camera

---

Migliori costumi per una serie

---

Migliori costumi per una miniserie o film per la tv

---

Suttirat Anne Larlarb e Joseph T. Mastrolia per Cinema Verite

Susannah Buxton e Caroline McCall per Downton Abbey

Ann Roth e Michelle Matland per Mildred Pierce

Amy Roberts e Giles Gale per The Fledgling ( episodio 1x01, Upstairs Downstairs )

Miglior sonoro per una serie tv comica o drammatica (un'ora) e animazione

---

Miglior sonoro per una miniserie o film per la tv

---

Miglior sonoro per una serie tv comica o drammatica (mezz'ora)

---

Miglior montaggio single-camera per una miniserie o film per la tv

---

Miglior montaggio per una serie comica

---

Miglior montaggio single-camera per una serie drammatica

---

Miglior montaggio sonoro per una serie

---

Miglior montaggio sonoro per una miniserie o film per la tv

---

Miglior trucco tradizionale per una serie multi-camera o show

---

Pessime notizie ( episodio 6x13, How I Met Your Mother )

iStart a Fan War ( episodio 4x06, iCarly )

The Pee-Wee Herman Show on Broadway

Miglior trucco tradizionale per una serie single-camera

---

Miglior trucco tradizionale per una miniserie o film per la tv

---

Miglior trucco prostetico per una serie, miniserie o film per la tv

---

Migliori musiche per una miniserie, film per la tv o special (Colonna sonora drammatica originale)

---

Migliori musiche per una serie (Colonna sonora drammatica originale)

---

Migliore musica dei titoli di testa

---

Migliore canzone con musica e testo originale

---

Migliori titoli di testa

---

Miglior coordinamento stunt

---

Miglior casting per una serie comica

---

Miglior casting per una serie drammatica

---

Miglior casting per una miniserie o film per la TV

---

Migliori acconciature per una serie single-camera

---

Migliori acconciature per una miniserie o film per la tv

---

Migliori acconciature per una serie multi-camera

---

iStart a Fan War ( episodio 4x06, iCarly )

The Pee-Wee Herman Show on Broadway

Miglior prodotto per ragazzi

---

iGot a Hot Room ( episodio 4x01, iCarly )

Wizards vs. Angels ( episodio 4x09, I maghi di Waverly )

Miglior performance Voice Over

---

Brenda Strong per Serata da ricordare ( episodio 7x23, Desperate Housewives - I segreti di Wisteria Lane )

Maurice LaMarche per Lrrreconcilable Ndndifferences ( episodio 7x11, Futurama )

Christopher Plummer per The Birth of Hollywood - 1907-1920 ( episodio 1x02, Moguls & Movie Stars: A History of Hollywood )

Seth Green per Catch Me If You Kangaroo Jack ( episodio 5x10, Robot Chicken )

Dan Castellaneta per Donnie Grass-co ( episodio 22x09, I Simpson )

Bob Hope Humanitarian Award

---

Miglior scenografia per un programma di varietà, musicale o comico

---

Miglior coreografia

---

Miglior fotografia per un programma TV

---

If God Is Willing and da Creek Don't Rise

Whale Wars

Miglior fotografia per un reality

---

Miglior regia per un varietà o programma TV comico

---

Miglior regia per un programma di non-fiction

---

American Masters

Miglior montaggio per un programma di non-fiction

---

American Masters

Miglior montaggio per un reality

---

Miglior programma di varietà, musicale o comico

---

Conan

Miglior speciale televisivo di varietà, musicale o comico

---

Miglior programma per bambini

---

iGot a Hot Room ( episodio 4x01, iCarly )

Wizards vs. Angels ( episodio 4x09, I maghi di Waverly )

Miglior programma per bambini non-fiction

---

Miglior programma speciale non-fiction

---

Miglior serie non-fiction

---

Moguls & Movie Stars: A History of Hollywood

Miglior reality

---

Miglior reality - show a premi

---

Miglior scrittura per un programma di varietà, musicale o comico

---

Conan