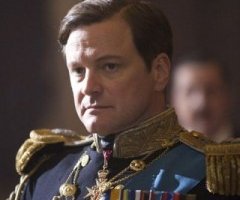 BIFA 2010: The King's Speech guida le nomination
Il film di Tom Hooper ottiene ben otto menzioni ai British Independent Film Awards. Seguono con sei nomination Monsters, Never Let Me Go and The Arbor.
Nelle parole dei due direttori dei British Independent Film Awards, "le nomination di quest'anno ben riflettono la vastità e la varietà del cinema indipendente nel Regno Unito; al di là del budget, ogni categoria esonda un'enorme quantità di talento". E' indubbio che tra i film menzionati dai BIFA ci sono alcuni dei titoli più attesi e interessanti dell'anno, anzitutto The King's Speech di Tom Hooper, già acclamato al Festival di Toronto: la pellicola che narra la storia commovente del sovrano balbuziente Giorgio VI ha ottenuto ben otto nomination, e guida la tally delle candidature. Ne ottengono sei il fantascientifico Monsters di Gareth Edwards, lo struggente Never Let Me Go di Mark Romanek e il dramma biografico The Arbor, firmato dall'esordiente Clio Barnard.
Non mancano importanti menzioni menzioni per film che hanno ottenuto consensi all'ultimo Festival di Cannes e anche al Festival di Roma ancora in corso: parliamo naturalmente di Another Year di Mike Leigh e di We Want Sex di Nigel Cole.
La cerimonia per la consegna dei tredicesimi British Independent Film Awards si terrà il prossimo 5 dicembre all'Old Billingsgate di Londra.
Ma ecco l'elenco completo delle nomination:

BIFA 2010: lista nomination
---