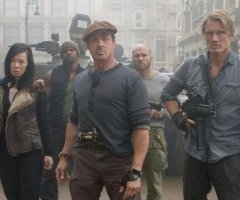 I Mercenari 3 - ecco il teaser trailer italiano di The Expendables
L'action con Sylvester Stallone, Jason Statham, Jet Li, Antonio Banderas, Wesley Snipes, Dolph Lundgren, Mel Gibson, Harrison Ford e Arnold Schwarzenegger arriverà in sala ad agosto.
Ci aspetta un'estate a tutto action insieme ai Mercenari: la Universal Pictures International Italy ha diffuso il teaser trailer italiano del terzo capitolo del franchise, atteso nelle sale ad agosto.
Ne I Mercenari 3 - The Expendables, Barney Ross (Sylvester Stallone), Lee Christmas (Jason Statham), Yin Yang (Jet Li), Gunnar Jensen (Dolph Lundgren),Toll Road (Randy Couture) ed Hale Caesar (Terry Crews) -- con i nuovi membri Billy the Kid (Liam Hemsworth) e Maggie (Yu Nan) - si riuniscono quando Mr. Church (Bruce Willis) arruola I Mercenari per un lavoro apparentemente semplice.
Il compito si presenta come uno stipendio facile per Barney e la sua banda di vecchia scuola. Ma quando le cose vanno male e uno di loro viene brutalmente ucciso, gli Expendables sono costretti a cercare vendetta in territorio ostile, dove tutto e tutti sono contro di loro.
ecco il teaser