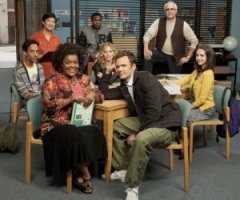 Critics' Choice Television Awards 2012: ecco le nomination
Sono state annunciate le candidature ai CCTA 2012, che vedono Community imporsi con sei candidature. Vediamo tutti i concorrenti in gara per i premi assegnati il prossimo 18 giugno.
Una sorpresa per tuttti, ma non per il pubblico di Community, è stata la rivelazione che la comedy della NBC ha ricevuto ben sei candidature ai Critics' Choice Television Awards 2012: Migliore attore protagonista (Joel McHale), Miglior Commedia, Miglior attore non protagonista (Danny Pudi e Jim Rash) e Miglior attrice non protagonista (Alison Brie e Gillian Jacobs).
A seguire troviamo Breaking Bad, Mad Men e Parks and Recreation con cinque nominations ciascuna, mentre tra le nuove serie che hanno avuto un riconoscimento ci sono Girls e Veep della HBO. La ABC figura tra le nomination con Suburgatory e la Fox con New Girl.
La lista per le serie drammatiche è ancora pià ricca e vede la matricola Homeland in gara come Miglior Dramma, Miglior attore protagonistia e Miglior attrice protagonista, mentre i protagonisti di Sons of Anarchy hanno ricevuto un riconoscimento alle loro doti artistiche con le nomination a Katey Sagal, Charlie Hunnam e Maggie Siff.
La CBS è sempre presente con The Good Wife che è stata candidata per una miriade di categorie e già l'hanno scorso si era aggiudicata il premio come Miglior attrice protagonista per Julianna Margulies, accanto alla nomination come Migliore attrice non protagonista per Archie Panjabi. In questa edizione ha avuto quattro nomination così come Modern Family e New Girl.
Quest'anno ci saranno sei nuove categorie che si andranno ad aggiungere alle usuali, tra le quali troviamo Miglior film o miniserie al quale parteciperanno American Horror Story, Game Change, Sherlock, Luther, The Hour e Page Eight.
I vincitori saranno annunciati il 18 Giugno al gala che si tiene al Beverly Hilton Hotel a Beverly Hills.
Di seguito sono riportate tutte le categorie con i nomi dei candidati.
CCTA 2012: lista nomination
---
Migliore serie tv drammatica

---

Miglior attore in una serie tv drammatica

---

Miglior attrice in una serie tv drammatica

---

Miglior attore non protagonista in una serie tv drammatica

---

Miglior attrice non protagonista in una serie tv drammatica

---

Migliore guest in una serie tv drammatica

---

Miglior serie tv commedia

---

Miglior attore in una serie tv commedia

---

Miglior attrice in una serie tv commedia

---

Miglior attore non protagonista in una serie tv commedia

---

Miglior attrice non protagonista in una serie tv commedia

---

Migliore guest in una serie tv commedia

---

Migliore serie animata

---

Miglior miniserie o film per la TV

---

Miglior attore in una miniserie o film per la TV

---

Miglior attrice in una miniserie o film per la TV

---

Miglior reality show

---

Miglior reality show a competizione

---

Miglior conduttore di in un reality

---

Miglior talk show

---