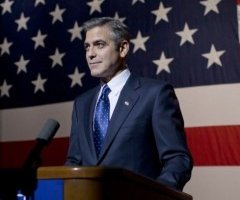 PGA 2012: ecco le nomination
La Guild dei produttori fa sentire la sua sul corso dell'Oscar Race: tra le scelte più sorprendenti, l'inclusione de Le amiche della sposa e l'esclusione di Drive e Molto forte, incredibilmente vicino.
Le emozioni della corsa all'Oscar 2012 riprendono dopo la pausa festiva con l'annuncio della nomination al Producers Guild Award. Il premio del sindacato dei produttori di Hollywood non è forse il più influente tra quelli delle Guild, ma rappresenta sicuramente una indicazione da non sottovalutare sul corso della Awards Race, in particolare riguardo alla sorte di alcuni contendenti: da rilevare soprattutto il sostegno a George Clooney e al suo eccellente Le idi di marzo, ma anche a David Fincher con il remake di lusso MIllennium - Uomini che odiano le donne. Non mancano tra i nominati i favoriti della contesa, ovvero The Artist di Michel Hazanavicius, Paradiso amaro di Alexander Payne, The Help di Tate Taylor e Hugo Cabret 3D di Martin Scorsese.
Farà discutere invece l'inclusione della commedia Le amiche della sposa (già presente nella selezione 2011 dell'American Film Institute) così come l'esclusione del film di Stephen Daldry Molto forte, incredibilmente vicino e dei favoriti della critica The Tree of Life di Terrence Malick e Drive di Nicolas Winding Refn.
Nessuna sorpresa tra i film d'animazione, con Rango e Le avventure di TinTin: il segreto dell'unicorno che appaiono favoriti accanto a sequel e spinoff come Cars 2, Kung Fu Panda 2 e Il gatto con gli stivali. I candidati per la non fiction sono stati annunciati invece qualche giorno fa, e tra di essi compaiono gli acclamati Project Nim e Senna.
Per quanto riguarda le nomination relative alle categorie TV, rispondono prontamente all'appello tutti i "soliti noti" di questa stagione, ovvero Mildred Pierce, Downton Abbey e Too Big To Fail - il crollo dei giganti tra le miniserie, Boardwalk Empire - l'impero del crimine e Il trono di spade tra le serie drammatiche e Modern Family e Parks and Recreation tra le comedy series.
Ecco la lista completa delle nomination ai Producers Guild Awards 2012:
PGA 2012: lista nomination
---
Premio Darryl F. Zanuck Award per il Miglior Film

---

Miglior Film d'Animazione

---

Miglior documentario

---

Premio David L. Wolper per Miglior Miniserie o Film Tv

---

Premio Danny Thomas per una serie tv - Commedia

---

Premio Norman Felton per una serie tv - Drammatico

---

David O. Selznick Achievement Award in Motion Pictures

---

Stanley Kramer Award

---

Vanguard Award

---

Milestone Award

---

Visionary Award

---

Norman Lear Achievement Award in Television

---