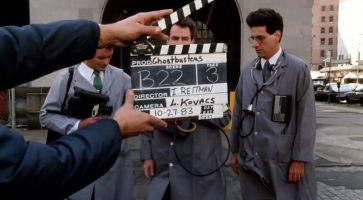 I finti spot pubblicitari nei film: il supercut video!
Da Ghostbusters a Batman, da The Truman Show a The Wolf of Wall Street, i fint spot pubblicitari che appaiono nei film a volte rappresentano le scene più cult dei film stessi. Riguardiamoli in questo supercut video.
Di solito sono una trovata che vivacizza le commedie, proprio per il loro essere decisamente trash e ridicoli, ma non sempre. I finti spot pubblicitari sono stati inseriti anche in film come Se mi lasci ti cancello, Prometheus o Donnie Darko così come in commedie come Ghostbusters, Anchorman - La leggenda di Ron Burgundy, Tropic Thunder e altri ancora.
Questo supercut video elaborato dal team di Screen Junkies, raccoglie i più cult, tra cui quelli che si vedono in Robocop, Batman, The Wolf of Wall Street, Atto di forza, Beetlejuice - Spiritello porcello, quello inquietante di Requiem for a Dream, quello ipnotico di Halloween III, Toy Story e quello irresistibile con Bill Murray in Lost in Translation - L'amore tradotto.