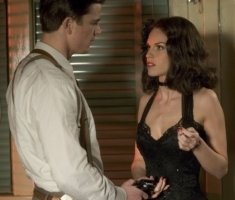 Arrivano anche le nomination di WGA e ASC
Anche gli sceneggiatori e i direttori della fotografia dicono la loro sui migliori film del 2006.
Si possono dire molte cose, e non tutte lusinghiere, della stagione degli award in corso, ma non si può dire che sia monotona e prevedibile. I direttori della fotografia riuniti nell'American Society of Cinematographers hanno rivelato infatti le loro nomination per la migliore fotografia dell'anno, chiamando in causa cinque film ignorati totalmente o quasi dai critici e dalle Guild: I figli degli uomini, The Illusionist, The Good Shepherd, Apocalypto e The Black Dahlia. Si pensava che, tra i favoriti alla corsa all'Oscar, almeno Babel, Dreamgirls e The Departed - Il bene e il male avessero una chance con l'ASC; e invece, questo potrebbe essere il primo anno in qui nessuno dei cinque film nominati all'Academy Award ha in tasca una nomination dell'ASC. A meno che l'AMPAS non ci riservi sorprese devvero incredibili.
Più nei ranghi rimane la Guild degli sceneggiatori, la WGA, che però, al contrario degli altri sindacati Hollywoodiani, sceglie, un po' a sorpresa, di nominare United 93 di Paul Greengrass, che ottiene una nomination per la sceneggiatura originale. Per il resto, i candidati sono quelli che ci si poteva aspettare dal WGA, e confermano la forza di tre film in particolare, nominati da tutte le Guild: Babel, The Departed e Little Miss Sunshine.
Ma ecco l'elenco delle nomination WGA nei vari gruppi, sia cinematografici che televisivi:
WGA 2007: lista nomination
---