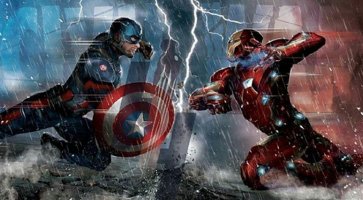 Captain America: Civil War - si festeggia la fine delle riprese
Ultimata la lavorazione del film che narrerà la frattura del team degli Avengers in seguito alle divergenze di opinioni tra Steve Rogers e Tony Stark.
Il co-presidente dei Marvel Studios Louis D'Esposito ha annunciato ufficialmente la fine delle riprese di Captain America: Civil War con un tweet che riportiamo di seguito.
#CaptainAmericaCivilWar wrapped principle photography today. Congratulations to the Russo brothers and the entire cast and crew.

— Louis D'Esposito (@louisde2) 22 Agosto 2015
La pellicola è stata girata per la maggior parte negli studi Pinewood Atlanta, con riprese aggiuntive realizzate a Berlino, in Germania, e a Porto Rico. Di seguito trovate alcune del party post-fine riprese che si è tenuto a Leipzig, in Germania, nei giorni scorsi.
Captain America: Civil War, in arrivo nei cinema il 6 maggio 2016, è diretto da Anthony e Joe Russo. Nel film vedremo il ritorno di Steve Rogers/Capitan America, ma anche l'arrivo di compagni di avventura come Tony Stark/Iron Man, Natasha Romanoff/Black Widow, Sam Wilson/Falcon, The Vision, Clint Barton/Hawkeye, Jim Rhodes/War Machine e Wanda Maximoff/Scarlet Witch. Tra i vari supereroi vecchi e nuovi il film ospiterà il debutto del nuovo Spider-Man, interpretato dal giovane inglese Tom Holland.