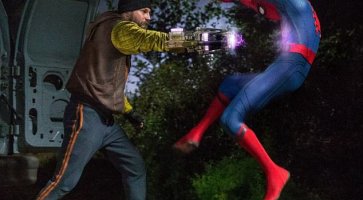 Spider-Man: Homecoming, i fan scambiano Logan Marshall-Green per Tom Hardy!
No, nonostante le apparenze Venom non ha fatto una capatina nel solo su Spider-Man.
Alcuni fan che guardavano Spider-Man: Homecoming hanno avuto l'impressione di veder comparire Tom Hardy, futuro interprete del villain Venom. Ebbene, quello che hanno visto non è l'attore inglese, ma il collega americano Logan Marshall-Green che nel film interpreta Jackson Brice/Shocker #1.
La somiglianza tra Tom Hardy e Logan Marshall-Green è cosa nota. I due, tra l'altro, sono coetanei e ora che anche Green sfoggia una folta barba la somiglianza si è accentuata ulteriormente. La conseguenza è che molte persone sono rimaste perplesse e hanno condiviso i propri dubbi su internet inondando i social.
Leggi anche: Spider-Man: Homecoming: la sostenibile leggerezza di essere Peter Parker 51891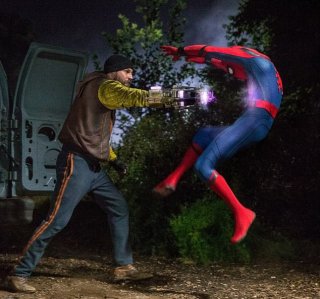 I refuse to accept that Tom Hardy & Logan Marshall Green don't share a parent

— Sally Evans (@SallyVanns) 6 luglio 2017
What are the odds someone mistakes Logan Marshall-Green for Tom Hardy and writes a post claiming Venom is in the new SPIDER-MAN movie?

— Matt Singer (@mattsinger) 6 luglio 2017
Nope, that wasn't Tom Hardy on Spider-man: Homecoming. I just won a $100 bet on it. #win

— Phoebe B. (@watwudphoebedo) 6 luglio 2017
Also thank you Spider-Man Homecoming for finally introducing me to Logan Marshall-Green AKA Not-But-Possibly-Better-Tom Hardy pic.twitter.com/diMjT19Zks

— Ally Sinyard (@allysinyard) 2 luglio 2017
Could've sworn that was tom hardy in Spider-Man but everyone keeps telling me to Shutup

— Kareem (@Lilsadrn) 6 luglio 2017
Heh. The mistaken Tom hardy is in the Spider-Man movie

— Eric Chase. (@Eric_Chase) 27 giugno 2017
yo Logan Marshall Green and Tom Hardy are like identical and both so breathtakingly beautiful

— rosario (@Tayladormz) 5 luglio 2017
Are we really supposed to believe that Logan Marshall-Green and Tom Hardy are different people? pic.twitter.com/cr5xjRxMT8

— Jen Silverman (@JenMSilverman) 6 giugno 2017
Continua a seguirci su Facebook, Twitter, Instagram, Youtube, Google+ e Telegram per aggiornamenti, notizie, e curiosità su film e serie TV!