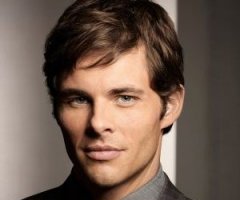 James Marsden in Anchorman: The Legend Continues
Il simpatico attore interpreterà un giornalista rivale del terribile Ron Burgundy nel sequel demenziale firmato da Adam McKay.
New entry nel cast di Anchorman: The Legend Continues. Il simpatico James Marsden si è unito al cast del film nei panni di un giornalista rivale di Ron Burgundy, alias Will Ferrell. Marsden affiancherà le star Christina Applegate, Steve Carell, David Koechner, Paul Rudd e la nuova arrivata Kristen Wiig nel sequel dell'esilarante Anchorman, diretto ancora una volta da Adam McKay. La nuova pellicola demenziale è attesa nei cinema il 20 dicembre 2013.
Di recente Jamers Marsden è apparso nel convincente Robot & Frank e nella commedia matrimoniale al femminile The Wedding Party. L'attore è regular nell'ultima serie dell'hit televisvo 30 Rock. Prossimamente lo vedremo nell'action thriller di Baltasar Kormakur 2 Guns.