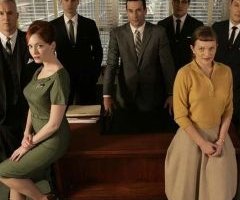 Emmy 2008: le nomination
Per la prima volta, ben due serial trasmessi da TV via cavo arrivano in nomination nella categoria principale: sono Mad Men e Damages.
Arriva il momento di scoprire quali sono le serie TV e i loro protagonisti che hanno conquistato, quest'anno, l'attenzione dell'Academy of Television Arts and Science, con le nomination la valanga di nomination ai 60. Emmy Awards.
Salta agli occhi, nella catogoria forse più prestigiosa, quella per la migliore serie drammatica, la presenza di due serie trasmesse da TV via cavo, e quindi con contenuti decisamente forti per la media delle produzioni televisive: si tratta di Mad Men, ambientato nel mondo dell'advertising negli anni '50, e di Damages, il tagliente legal con Glenn Close.
Mad Men è anche la serie drammatica che conquista il maggior numero di nomination, 16, mentre tra le commedie a guidare la lista è la sit com di Tina Fey 30 Rock, con 17 candidature.
I premi saranno consegnati il prossimo 21 settembre.
Segue l'elenco delle nomination delle categorie principali, mentre una lista completa è presente nella scheda dell'evento.
Emmy 2008: lista nomination
---