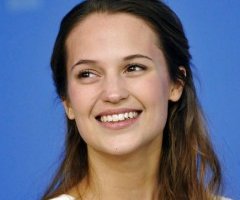 Alicia Vikander in The Man from U.N.C.L.E.
L'attrice nordica affiancherà le star Tom Cruise e Armie Hammer, due agenti segreti davvero affascinanti.
La svedese Alicia Vikander sta vivendo un periodo lavorativo particolarmente brillante. Dopo essere stata contattata per interpretare un sensuale robot evoluto in Ex Machina, esordio alla regia dello scrittore Alex Garland, Guy Ritchie la vuole protagonista femminile dell'atteso The Man from U.N.C.L.E.. Il film, ispirato a una popolare serie tv inglese, vede protagoniste le star Tom Cruise e Armie Hammer.
The Man from U.N.C.L.E. è basato sulla serie originale che vedeva Robert Vaughn nei panni di Napoleon Solo e David McCallum in quelli di Illya Kuryakin. I due sono agenti appartenenti all'United Network Command for Law Enforcement (U.N.C.L.E.), unità speciale impegnata a combattere i nemici della pace, in particolare le forze della T.H.R.U.S.H. (Technological Hierarchy for the Removal of Undesirables and the Subjugation of Humanity). Tom Cruise interpreterà Napoleon Solo, mentre Armie Hammer sarà Kuryakin. Nella versione definitiva dello script i nomi dei personaggi potrebbero cambiare e l'ambientazione potrebbe subire un rimodernamento per essere in linea con i gusti del pubblico più giovane.
Presto vedremo Alicia Vikander nell'action fantasy The Seventh Son, nel biopic dedicato a Julian Assange The Fifth Estate e nella pellicola indie Son of a Gun, interpretata da Ewan McGregor.