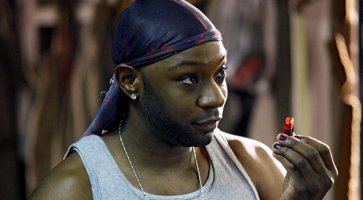 True Blood: l'ultimo saluto a Nelsan Ellis sui social da Joe Manganiello ad Anna Paquin
Anche il creatore della fortunata serie Alan Ball e altre personalità come Jessica Chastain e Chadwick Boseman hanno tributato lo sfortunato attore americano.
Aveva solo 39 anni e aveva lasciato il segno in True Blood con il suo ruolo di Lafayette, il cuoco gay del locale di Sam Merlotte. Nelsan Ellis è scomparso nella giornata di ieri a causa di complicazioni sopraggiunte in seguito ad un infarto. Subito dopo aver ricevuto la notizia, il creatore Alan Ball ha rilasciato una dichiarazione anche a nome di HBO:
"Siamo rimasti sconvolti dalla scomparsa di Nelsan Ellis. Nelsan è stato un membro della famiglia HBO, il cui ritratto iconico di Lafayette sarà ricordato fortemente grazie al suo apporto in True Blood. Nelsan mancherà a tutti, ai suoi fan e a noi della HBO."
Al cordoglio si sono uniti tutti i colleghi del fortunato show, da Anna Paquin a Stephen Moyer e Joe Manganiello:
It was an utter privilege to work with the phenomenally talented and deeply kind soul .@OfficialNelsan I'm devastated by his untimely death. pic.twitter.com/If17csduHz

— Anna Paquin (@AnnaPaquin) 8 luglio 2017
Dearest #NelsanEllis , may flights of angels sing thee to thy rest, you phenomenally talented genius.... pic.twitter.com/2OamZvBVNe

— Carrie Preston (@carriepreston) 8 luglio 2017
Nelsan Ellis was truly remarkable. A brilliant, charismatic, intelligent, soulful, wonderful dude. this is just completely tragic.

— Stephen Moyer (@smoyer) 8 luglio 2017
Crushed today by the loss of my friend and castmate Nelsan Ellis. He was a wonderful person, a pioneer, and a one of a kind artist. RIP pic.twitter.com/fvtquhIac7

— Joe Manganiello (@JoeManganiello) 8 luglio 2017
Heartbreaking. https://t.co/LuDtfxBUJB

— Deborah Ann Woll (@DeborahAnnWoll) 8 luglio 2017
Anche personalità al di fuori di True Blood hanno espresso il loro dispiacere, da Jessica Chastain al nuovo Black Panther Chadwick Boseman.
We didnt even scratch the surface of seeing what this artist was capable of. My love to the family of this spectacular man. #NelsanEllis pic.twitter.com/3DoPQZYS7p

— Jessica Chastain (@jes_chastain) 8 luglio 2017
My heart is broken today over the loss of @OfficialNelsan I was in complete awe of your talent and so honored to have known your kindness.

— Anna Camp (@TheRealAnnaCamp) 8 luglio 2017
Guarda il video: In memoriam: l'ultimo saluto ai personaggi che ci hanno lasciato nel 2016 (VIDEO)
Continua a seguirci su Facebook, Twitter, Instagram, Youtube, Google+ e Telegram per aggiornamenti, notizie, e curiosità su film e serie TV!