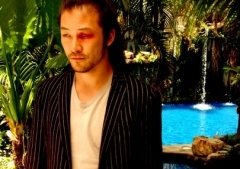 Prosegue il concorso alla Berlinale
Da Pen-ek Ratanaruang a Michael Winterbottom, prosegue la proiezione dei film in concorso al festival di Berlino
La mattina della settima giornata del festival di Berlino 2006 si apre con Invisible Waves, film thailandese di Pen-ek Ratanaruang, già autore di Last life in the Universe.
Gli altri film in concorso sono The Road To Guantanamo di Michael Winterbottom e l'iraniano It's Winter di Rafi Pitts.
Iran, Grecia, Germania, Portogalle e sud America nelle rassegne parallele: The Red Cockatoo, Birds Of Heaven, The House of Sand sono tra i film del giorno di Panorama, mentre per la sezione Forum vedremo Kinetta, Men at Work, The Prisoner e il giapponese Dead Run di Sabu.
Per le retrospettive, Mogambo con Ava Gardner e Grace Kelly, Uno, due, tre! di Billy Wilder e I'll See You In My Dreams, con Doris Day.