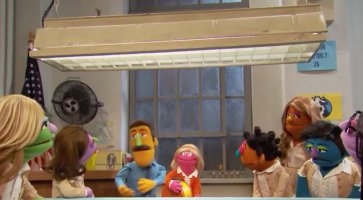 Orange is the New Black: la parodia dei Muppets è geniale!
Alla Litchfield Academy è ora di fare merenda!
I Muppets (Sesame Street in originale) sono responsabili di una nuova esilarante parodia dedicata, stavolta, alla serie Netflix Orange Is the New Black. Dopo Downton Abbey (Upside Downton Abbey), True Blood (True Mud) e I segreti di Twin Peaks (Twin Beaks), diamo il benvenuto a Orange is the New Snack.
Leggi anche: Orange is the New Black: Le attrici raccontano come la serie Netflix ha cambiato il mondo LGBT
La parodia targata Muppets riproduce alla perfezione la sigla della popolare serie tv al femminile mostrando primissimi piani dei Muppets e riproponendo una versione rivista e corretta delle parole della canzone che accompagna i titoli di testa. L'ambientazione cambia dal penitenziario di Litchfield alla Litchfield Academy. La nuova studentessa Piper Snackman (parodia di Piper Chapman) fa la sua comparsa e il baffuto insegnate Moustache (parodia di Porn Stache) dichiara che il momento di fare merenda. Piper, come nella serie tv, infastidisce Red criticando i suoi gusti alimentari e non finirà bene.
Continua a seguirci su Facebook, Twitter, Instagram, Youtube, Google+ e Telegram per aggiornamenti, notizie, e curiosità su film e serie TV!