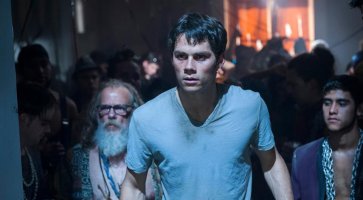 Maze Runner: The Death Cure, Dylan O'Brien ci guida nel backstage
Un video ci svela i segreti della lavorazione del film, la cui release è rinviata al 2018.
Nel corso degli MTV Movie & TV Awards 2017, 20th Century Fox ha diffuso un video backstage di Maze Runner: The Death Cure introdotto dalla star Dylan O'Brien.
La release di The Maze Runner: The Death Cure è stata spostata al 2018 per permettere a Dylan O'Brien di riprendersi completamente dalle ferite riportate in un grave incidente occorso sul set durante le riprese del film che adesso è in fase di ultimazione.
Come i due precedenti capitoli del franchise, Maze Runner: The Death Cure, ispirato alla saga letteraria young adult di James Dashner, è diretto dal regista Wes Ball. Nel cast incontreremo di nuovo Kaya Scodelario, Rosa Salazar, Thomas Sangster, Ki Hong Lee e Dexter Darden.
Continua a seguirci su Facebook, Twitter, Instagram, Youtube, Google+ e Telegram per aggiornamenti, notizie, e curiosità su film e serie TV!