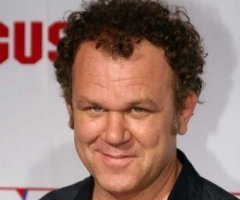 John C. Reilly in Anchorman: The Legend Continues
In arrivo nel cast del sequel demenziale anche gli attori Dylan Baker e Meagan Good.
Dopo Kristen Wiig e James Marsden, anche il brillante John C. Reilly starebbe per approdare nel cast di Anchorman: The Legend Continues per interpretare un piccolo cameo. Con lui altri due attori, Dylan Baker e Meagan Good, si uniscono al solido team composto da Will Ferrell, Christina Applegate, Steve Carell, David Koechner e Paul Rudd per narrare le nuove disavventure del giornalista più improbabile mai apparso in televisione. La nuova commedia, che vede il ritorno di Adam McKay dietro la macchina da presa, è in produzione ad Atlanta, in Georgia.
John C. Reilly tornerà a riunirsi con gli amici Will Ferrell e Adam McKay con cui ha già collaborato negli esilaranti Fratellastri a 40 anni e Ricky Bobby - la storia di un uomo che sapeva contare fino a uno. Meagan Good, apparsa di recente in Think Like a Man, è attualmente impegnata nella serie tv NBC Deception. Dylan Baker ha recitato nella miniserie Political Animals.