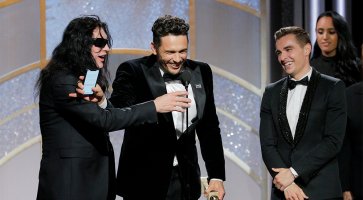 Golden Globes 2018: James Franco invita Tommy Wiseau sul palco, ma gli porta via il microfono!
Siparietto comico tra la star di The Disaster Artist e l'autore di The Room.
James Franco aveva promesso che, in caso di vittoria, avrebbe portato il suo ispiratore Tommy Wiseau sul palco dei Golden Globes.
Promessa mantenuta, ma anche alla generosità di James Franco c'è un limite. Quando l'esuberante Wiseau, interpretato da Franco in The Disaster Artist, ha tentato di acchiappare il microfono l'attore l'ha rimesso al suo posto tra le risate del pubblico e del fratello Dave Franco. Naturalmente i social si sono scatenati.
James, refusing to be Kanye'd by Tommy. #GoldenGlobes pic.twitter.com/FY6oSpyU7K

— Samantha Highfill (@samhighfill) 8 gennaio 2018
TOMMY WISEAU TRYING TO STEAL THE MIC FROM JAMES FRANCO IS THE MOST TOMMY WISEAU THING pic.twitter.com/91yWNcwHrS

— hattie (@hattiesoykan) 8 gennaio 2018
"No way, Wiseau. I'm giving this speech."

— Ted Geoghegan (@tedgeoghegan) 8 gennaio 2018
I'll never stop laughing at Franco shoving Wiseau away from the mic.

— Sarah-Violet Bliss (@SVBliss) 8 gennaio 2018
Hard to say "You're no one in this town." more brazenly than James Franco doing a Tommy Wiseau impression to Tommy Wiseau's face.

— Josh Gondelman (@joshgondelman) 8 gennaio 2018
oh my god brutal. https://t.co/9PhHXysTtV

— Sara Bareilles (@SaraBareilles) 8 gennaio 2018
Continua a seguirci su Facebook, Twitter, Instagram, Youtube, Google+ e Telegram per aggiornamenti, notizie, e curiosità su film e serie TV!