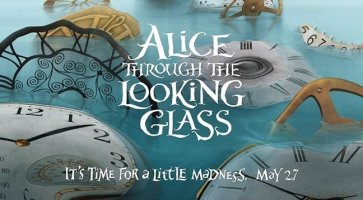 Alice Through the Looking Glass: i primi poster del film
La Disney ha diffuso le prime locandine ufficiali del sequel del lungometraggio con protagonista Mia Wasikowska e Johnny Depp.
All'evento D23 Expo targato Disney sono stati presentati i primi due poster di Alice Through the Looking Glass, il sequel diAlice in Wonderland.
Il lungometraggio sarà diretto da James Bobin ed è stato scritto da Linda Woolverton. I protagonisti saranno ancora una volta Mia Wasikowska nel ruolo di Alice e Johnny Depp in quello del Cappellaio Matto.
Mia aveva recentemente rivelato che per le riprese del nuovo capitolo sono stati utilizzati meno effetti speciali rispetto al precedente film e gli attori hanno potuto immergersi realmente nel mondo fantastico ispirato all'opera di Lewis Carroll.
Fanno parte del cast anche Anne Hathaway, Helena Bonham Carter, Rhys Ifans, Matt Lucas, Sacha Baron Cohen, Stephen Fry, Toby Jones, Alan Rickman, Michael Sheen, Timothy Spall, Paul Whitehouse e Barbara Windsor.