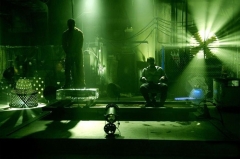 La colonna sonora di Saw IV
Nu Metal ed Industrial Rock sugli scudi per il quarto capitolo di Saw.
Il quarto atto di Saw vede una colonna sonora all'insegna del nu metal e dell'industrial, con nomi noti nel circuito alternativo, fra i quali spiccano Filter, Fear Factory, Ministry e Drowning Pool.
Si continua pertanto sulla stessa falsa riga di Saw III - L'enigma senza fine, ed alcuni protagonisti musicali vengono confermati per questo quarto atto.
Confermata anche la presenza dell'ex Nine Inch Nails (vi militò nel periodo 1994-2000) e remixer di successo Charlie Clouser, compositore delle parti strumentali della pellicola e presente nel soundtrack con l'ultima traccia Just Begun.
Purtroppo nel disco non compare il tema finale della pellicola, ad opera del gruppo giapponese X - Japan, ritornato ad incidere dopo dieci anni di inattività.

Soundtrack
---

Saw IV

Data d'uscita:

23 ottobre 2007

Etichetta:

Adrenaline Records
---
1.
<b>Payroll</b> (John O Mix)
5.
<b>Misery Loves Company</b>
10.
<b>Better Think Again</b>
11.
<b>On The Offensive </b>
12.
<b>Spasmolytic</b> (Deftones Remix-Habitual Mix)
14.
<b>Dead Is The New Alive</b>
15.
<b>Do You Want To Play A Game</b>
16.
<b>Crossing The Rubicon</b>
17.
<b>Dread Prevailed </b>
18.
<b>Thrash Is Back</b>