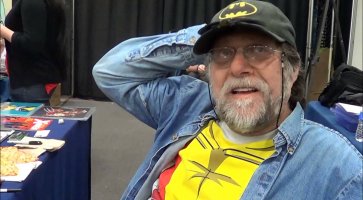 Wolverine: Hugh Jackman, Joss Whedon e altre star ricordano il co-creatore Len Wein
Il veterano dei fumetti che ha contribuito alla rinascita degli X-Men si è spento domenica.
Ieri i social network sono stati invasi da messaggi di cordoglio per la scomparsa del veterano dei fumetti Len Wein, scomparso a 69 anni dopo aver creato personaggi dei fumetti di successo quali Wolverine e Swamp Thing.
Leggi anche: Eroi stanchi al capolinea: se Logan fosse l'incarnazione del cinecomic
"Sono onorato di aver conosciuto Len Wein. L'ho incontrato la prima volta nel 2008. Gli ho detto che dal suo cuore, mani e cervello era nato il più grande personaggio dei fumetti" ha twittato Hugh Jackman, interprete di Wolverine in numerose pellicole.
Blessed to have known Len Wein. I first met him in 2008. I told him - from his heart, mind & hands came the greatest character in comics. pic.twitter.com/cFqL1uy0JV

— Hugh Jackman (@RealHughJackman) September 11, 2017
Il regista di The Avengers Joss Whedon ha riconosciuto a Wein di aver contribuito a lanciare "l'era moderna dei fumetti con la sua più potente metafora."
Co-created Wolverine & the new X-men. Co-kickstarted the modern comic book era with its most powerful metaphor. And more. RIP Len Wein. pic.twitter.com/TSiWChvfdI

— Joss Whedon (@joss) September 10, 2017
Len Wein ha aiutato la rinascita della serie degli X-Men ed è stato responsabile per la comparsa di personaggi molto amati quali Tempesta, Nightcrawler e Colossus. Kevin Smith ha ricordato al Twitterverse di una delle sue creazioni preferite, Swamp Thing.
R.I.P. to comic book legend LEN WEIN, co-creator of not only Wolverine but also one of my favorite characters of all time, the Swamp Thing.

— KevinSmith (@ThatKevinSmith) September 11, 2017
Len Wein, co-creator of WOLVERINE and SWAMP THING & more responsible for the x-men you love than he gets credit for. Thank you. #RIP

— BRIAN MICHAEL BENDIS (@BRIANMBENDIS) September 10, 2017
I just learned that my friend and writing inspiration @LenWein passed away this morning. My love and condolences to his wife, @mcvalada.

— Neil Gaiman (@neilhimself) September 10, 2017
RIP the great #LenWein. He co-created Wolverine & Swamp Thing, both of which gave me a living as a writer & endless pleasure as a reader.

— Mark Millar (@mrmarkmillar) September 10, 2017
RIP the brilliant Len Wein. He co-created Wolverine, Swamp Thing, Storm, and so many other iconic characters. Thanks for all of your work. pic.twitter.com/333GyJQQAb

— New York Comic Con (@NY_Comic_Con) September 10, 2017
Len Wein is gone. Everytime I got to hang out with him, his smile lit the room. He lives in my memory in my cabana at Convergence. RIP pic.twitter.com/owVAiR1j8K

— Harry Knowles (@headgeek666) September 10, 2017
Continua a seguirci su Facebook, Twitter, Instagram, Youtube, Google+ e Telegram per aggiornamenti, notizie, e curiosità su film e serie TV!