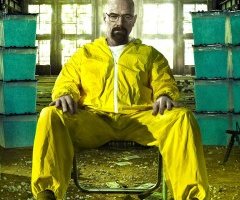 WGA 2014: annunciate le nomination per la TV
Breaking Bad e Orange Is The New Black sono alla pari con ben quattro candidature, ma la vera vincitrice è Netflix.
Ormai i nuovi media hanno conquistato ogni possibile campo, prestandosi ad applicazioni che si allargano a macchia d'olio in tempi brevissimi e uno di questi esempi è sicuramente il connubio tra il piccolo schermo e il web: siamo partiti da sporadiche webseries con episodi di pochi minuti fino ad arrivare a interi siti dedicati allo streaming video. Su tutti trionfa Netflix, che quest'anno ha dominato gli WGA Awards televisivi con ben sette nomination grazie a House of Cards - Best New Series, Best Drama e una nomination per la categoria dedicata ai singoli episodi - e l'hit series che ha fatto impazzire la critica e il pubblico, Orange Is The New Black, che con quattro nomination si trova in pari con lo show che si è conquistato un posto nel Guinness dei Primati del 2014, Breaking Bad. Le gesta di Walter White e le fumose atmosfere di Mad Men hanno guadagnato alla AMC cinque nomination; il canale via cavo, insieme all'outlet telematico, ha fatto la parte del leone, sbaragliando i network che si sono dovuti 'accontentare' delle nomination per Best Comedy assegnate alle veterane 30 Rock, Parks and Recreation e la vincitrice dello scorso anno Modern Family.
Una citazione doverosa è quella per The Good Wife, che nelle nomination per il 2013 è stata del tutto ignorata, ma quest'anno è ritornata nuovamente in gara grazie a una quinta stagione eccellente: oltre ad essere nominata per Best Drama ha ricevuto una nomination per l'episodio Hitting The Fan, che ha segnato un punto di svolta nelle vicende dei protagonisti del legal drama. Tra le nuove serie troviamo nuovamente trionfi per la TV via cavo, con il tanto discusso Masters of Sex, le cospirazioni politiche di House of Cards, le spie russe di The Americans e gli intrighi di Ray Donovan, il fixer disilluso e dai nervi d'acciaio interpretato da Liev Schreiber.
Ecco l'elenco completo delle nomination TV dei WGA 2014:
WGA 2014: lista nomination
---