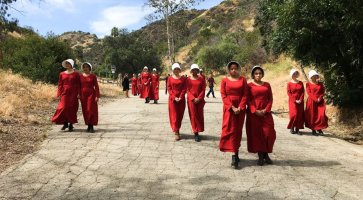 The Handmaid's Tale: le ancelle sfilano a LA per sostenere la serie in vista degli Emmy
Hulu ha ideato un'originale campagna per attirare l'attenzione sullo show ispirato al romanzo scritto da Margaret Atwood.
Hulu ha ideato un modo davvero originale, e un po' inquietante, per promuovere la campagna con cui si sostiene la serie The Handmaid's Tale in vista delle nomination ai premi Emmy.
Per le strade di Los Angeles sono infatti apparse delle donne vestite di rosso, proprio come la protagonista della storia scritta da Margaret Atwood, che hanno camminato nell'area di West Hollywood, tra lo stupore dei passanti.
Tra le tappe compiute dalle 38 ancelle, divise in sei gruppi, c'erano quelle all'Hollywood Fever Cemetery, agli uffici di The Hollywood Reporter e su Sunset Strip. In alcune location, tuttavia, è stato chiesto alle figuranti di allontanarsi.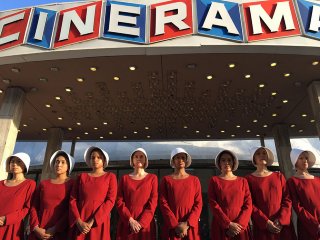 Alcune delle persone che hanno assistito alla manifestazione hanno condiviso video e scatti sui social media, sottolineando come siano preoccupate del fatto che gli eventi mostrati nello show con protagonista l'attrice Elisabeth Moss potrebbero accadere realmente se i diritti delle donne non verranno rispettati.
Un post condiviso da Juval Porat (@juvaljuval) in data: 10 Giu 2017 alle ore 16:24 PDT