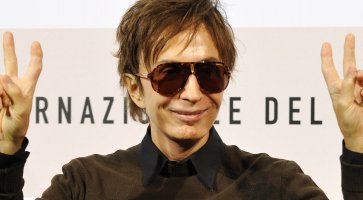 Michael Cimino: il saluto di Hollywood sui social media
Robert De Niro, Sophie Marceau, Kelly Lynch, Jay Baruchel, Edgar Wright e Guillermo del Toro piangono il grande cineasta.
Nel weekend si è spento all'età di 77 anni il grande Michael Cimino, regista di capolavori quali Il cacciatore e I cancelli del cielo. Il primo a commemorarlo è stato Robert De Niro, interprete de Il cacciatore, che in un comunicato ha dichiarato: "Il nostro lavoro insieme è qualcosa che verrà ricordato sempre. Ci mancherà".
Leggi anche: Ricordando Michael Cimino: l'affresco di un'America fra bellezza e violenza
Di seguito ecco i tributi e i ricordi di registi e attori, tra cui i colleghi William Friedkin, Guillermo del Toro e Edgar Wright.
I wish I had paid tribute to Michael Cimino while he was alive.
He was an important and masterful film maker.
We will always have his work

— William Friedkin (@WilliamFriedkin) 2 luglio 2016
In honor of Cimino, may I remember his Year of the Dragon. A powerful movie, flawed to some but highly influential to filmmakers.

— Guillermo del Toro (@RealGDT) 2 luglio 2016
Everybody will remember Cimino's "big ones" like The Deer Hunter but I have Thunderbolt and Lightfoot close to my heart.

— Guillermo del Toro (@RealGDT) 2 luglio 2016
Watch this tonight. Thank me later. A great funny, exciting debut from the dearly departed Michael Cimino. pic.twitter.com/ZM9Hu6Cnd9

— edgarwright (@edgarwright) 3 luglio 2016
Quelle tristesse, Michael Cimino est mort..."Voyage au bout de l'enfer" restera un film de légende !! À voir et revoir, forever !

— Sophie Marceau (@SophieMarceau) 3 luglio 2016
Michael Cimino est mort, en paix, entouré des siens et de ces deux femmes qui l'aimaient. Nous l'aimions aussi. pic.twitter.com/emPv4nj5cZ

— THIERRY FREMAUX (@THIERRYFREMAUX) 2 luglio 2016
On the set of 'Desperate Hours' with #MichaelCimino #RIP pic.twitter.com/VQsqhf4yhB

— Kelly Lynch (@kellylynch) 2 luglio 2016
HEAVEN'S GATE will forever be on my top 10 list of all time favorite films -- an astounding masterpiece. RIP #MichaelCimino

— mark romanek (@markromanek) 2 luglio 2016
Heavens Gate was the bravest swing for the fences. May we all be that bold when we turn on the camera. #MichaelCimino

— Jason Reitman (@JasonReitman) 3 luglio 2016
"One shot."

RIP Michael Cimino. pic.twitter.com/LDsKOGjVIk

— Jay Baruchel (@BaruchelNDG) 3 luglio 2016
"I don't make movies to make a point, I make movies to tell stories about people." - Michael Cimino #RIP pic.twitter.com/bCzK8wYoz3

— Tribeca (@Tribeca) 3 luglio 2016
We're saddened to hear Oscar-winning filmmaker Michael Cimino has passed away https://t.co/QYIVFeF6Qa pic.twitter.com/rAjjj7jyIz

— BFI (@BFI) 3 luglio 2016
Continua a seguirci su Facebook, Twitter, Instagram, Youtube, Google+ e Telegram per aggiornamenti, notizie, e curiosità su film e serie TV!