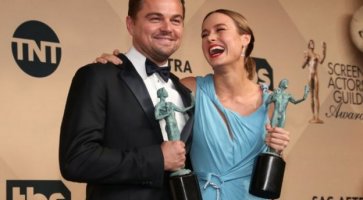 SAG 2016: trionfano Spotlight, Leonardo DiCaprio e Idris Elba
Ecco l'elenco completo dei vincitori dei premi attribuiti dagli attori di Hollywood: come migliori attirici vincono Brie Larson e Alicia Vikander. Per le serie spazio ad Homeland, Orange is The New Black e Downton Abbey.
L'edizione numero 22 degli Screen Actors Guild Awards (i cosidetti SAG Awards), i premi di Hollywood per le migliori performance attoriali dell'anno, si è conclusa poche ore fa ed ha confermato l'appeal di due film ambitissimi ed in corsa entrambi agli Oscar 2016.
Dopo la vittoria del PGA da parte de La grande scommessa, molti si aspettavano che con il suo straordinario cast il film di Adam McKay si portasse a casa anche il SAG ensemble ipotecando l'Oscar. E invece il premio alla totalità del cast è andata a Il caso Spotlight.
Leonardo DiCaprio vince la statuetta come miglior attore per il ruolo in Revenant - Redivivo, la sua prima vittoria in 9 nomination. Ma fra i premiati ci sono anche Brie Larson per Room (alla sua prima candidatura) e Alicia Vikander come attrice non protagonista in The Danish Girl.
Sopresa per Idris Elbache, grazie a Beasts of No Nation ed alla miniserie TV Luther, si porta a casa ben due statuette. Per le categorie televisive poi trionfano Viola Davis con Le regole del delitto perfetto (sua è la statuetta come miglior attrice protagonista drammatica), e riconoscimenti anche per Orange Is the New Black che trionfa per il miglior ensemble e per l'attrice Uzo Aduba.
Ma ecco l'elenco completo dei vincitori:
SAG 2016: tutti i vincitori
---