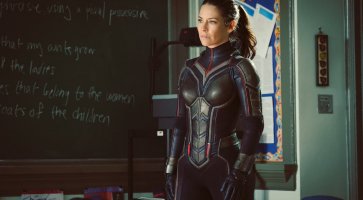 Ant-Man and the Wasp: il video e le foto dal set mostrano Ghost in azione!
Il sequel con protagonisti Paul Rudd ed Evangeline Lilly arriverà nei cinema americani nel luglio 2018.
Le riprese del film Ant-Man and the Wasp sono attualmente in corso e le nuove immagini e un breve video girato sul set rivelano un momento di uno scontro tra il personaggio interpretato da Evangeline Lilly e Ghost, villain affidata a Hannah John-Kamen.
Il sequel arriverà nei cinema americani il 6 luglio 2018 con la regia di Peyton Reed.
Il lungometraggio mostrerà quello che accade a Scott Lang dopo gli eventi mostrati in Captain America: Civil War. Il protagonista sarà alle prese con i suoi impegni da supereroe e da padre quando Hope Van Dyne e il dottor Hank Pym gli affidano una nuova, urgente, missione. Scott dovrà quindi indossare di nuovo il costume e imparare a lottare accanto a The Wasp, mentre il team collabora per scoprire i segreti legati al loro passato.
More new ANT-MAN AND THE WASP set photos feature the Wasp in action!@MCUExchange @AtlantaFilming #AntManandtheWasp pic.twitter.com/uWZYdsZGkA

— HollywoodUpdateIndia (@H0LLYW00DUPDATE) September 26, 2017
Ritorneranno nel cast i protagonisti Paul Rudd ed Evangeline Lilly, oltre a Judy Greer, Michael Peña, Michael Douglas, Bobby Cannavale, Abby Ryder Fortson, Tip "T.I." Harris e David Dastmalchian.
Tra i nuovi arrivi nel cast, come annunciato al Comic-Con di San Diego, ci sono invece Michelle Pfeiffer e Laurence Fishburne.