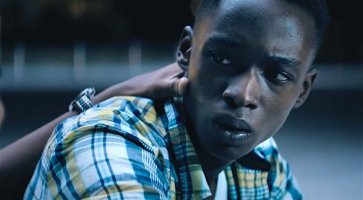 WGA 2017: i vincitori sono Moonlight e Arrival
Beffato La La Land. Le categorie televisive vedono il trionfo di Atlanta e The Americans.
In attesa degli Oscar sono stati annunciati i premi della Writers Guild of America, West (WGAW) e della Writers Guild of America, East (WGAE) che vanno alla sceneggiatura dei migliori film, serie tv, new media, videogames, news, radio e animazione.
Per le categorie cinematografiche i vincitori di questa edizione sono Moonlight, che trionfa nella categoria sceneggiatura originale battendo il temibile rivale La La Land, e Arrival, miglior sceneggiatura non originale.
Nelle categorie televisive Atlanta ha la meglio trionfando come miglior serie tv e miglior serie comica, mentre The Americans conquista il premio per la miglior sceneggiatura per una serie drammatica. Di seguito tutti i premiati.
Leggi anche: Moonlight e gli altri: 10 "Oscar arcobaleno" del cinema LGBT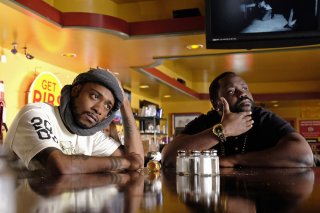 CINEMA
ORIGINAL SCREENPLAY
Moonlight, Written by Barry Jenkins, Story by Tarell McCraney; A24
ADAPTED SCREENPLAY
Arrival, Screenplay by Eric Heisserer; Based on the Story "Story of Your Life" by Ted Chiang; Paramount Pictures
DOCUMENTARY SCREENPLAY
Command and Control, Telescript by Robert Kenner and Eric Schlosser, Story by Brian Pearle and Kim Roberts; Based on the book Command and Control by Eric Schlosser; American Experience Films
TELEVISIONE
DRAMA SERIES
The Americans, Written by Peter Ackerman, Tanya Barfield, Joshua Brand, Joel Fields, Stephen Schiff, Joe Weisberg, Tracey Scott Wilson; FX
COMEDY SERIES
Atlanta, Written by Donald Glover, Stephen Glover, Stefani Robinson, Paul Simms; FX
NEW SERIES
Atlanta, Written by Donald Glover, Stephen Glover, Stefani Robinson, Paul Simms; FX
LONG FORM ORIGINAL
Confirmation, Written by Susannah Grant; HBO
LONG FORM ADAPTED
The People vs. O.J. Simpson: American Crime Story, Written by Scott Alexander, Joe Robert Cole, D.V. DeVincentis, Maya Forbes, Larry Karaszewski, Wally Wolodarsky, Based on the book The Run of His Life by Jeffrey Toobin; FX
SHORT FORM NEW MEDIA - ORIGINAL
"The Party" (The Commute), Written by Linsey Stewart & Dane Clark; youtube.com
SHORT FORM NEW MEDIA - ADAPTED
"Passage" Part 4 (Fear the Walking Dead), Written by Lauren Signorino & Mike Zunic; amc.com
ANIMATION
"Stop the Presses" (BoJack Horseman), Written by Joe Lawson; Netflix
EPISODIC DRAMA
"The Trip" (This Is Us), Written by Vera Herbert; NBC
EPISODIC COMEDY
"Kimmy Goes on a Playdate!" (Unbreakable Kimmy Schmidt), Written by Robert Carlock; Netflix
COMEDY / VARIETY (INCLUDING TALK) - SERIES
Last Week Tonight with John Oliver, Writers: Kevin Avery, Tim Carvell, Josh Gondelman, Dan Gurewitch, Geoff Haggerty, Jeff Maurer, John Oliver, Scott Sherman, Will Tracy, Jill Twiss, Juli Weiner; HBO
COMEDY / VARIETY - SKETCH SERIES
Saturday Night Live, Head Writers: Rob Klein, Bryan Tucker Writers: James Anderson, Fred Armisen, Jeremy Beiler, Chris Belair, Megan Callahan, Michael Che, Mikey Day, Jim Downey, Tina Fey, Fran Gillespie, Sudi Green, Tim Herlihy, Steve Higgins, Colin Jost, Zach Kanin, Chris Kelly, Erik Kenward, Paul Masella, Dave McCary, Dennis McNicholas, Seth Meyers, Lorne Michaels, Josh Patten, Paula Pell, Katie Rich, Tim Robinson, Sarah Schneider, Pete Schultz, Streeter Seidell, Dave Sirus, Emily Spivey, Andrew Steele, Will Stephen, Kent Sublette; NBC
COMEDY / VARIETY - MUSIC, AWARDS, TRIBUTES - SPECIALS
Triumph The Primary Election Special 2016, Written by Andy Breckman, Josh Comers, Raj Desai, David Feldman, R J Fried, Jarrett Grode, Ben Joseph, Matthew Kirsch, Michael Koman, Mike Lawrence, Brian Reich, Craig Rowin, Robert Smigel, Zach Smilovitz, David Taylor, Andrew Weinberg; Additional Materials by Ray James, Jesse Joyce, Jason Reich, Alex Scordelis; Hulu
Continua a seguirci su Facebook, Twitter, Instagram, Youtube, Google+ e Telegram per aggiornamenti, notizie, e curiosità su film e serie TV!