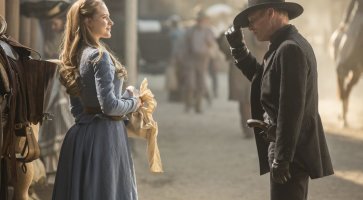 WGA 2016: tra le nomination Westworld, Stranger Things e This Is Us
Il sindacato degli sceneggiatori ha rivelato quali serie hanno ricevuto una candidatura in questa edizione.
Il Sindacato degli Sceneggiatori Americani ha annunciato le nomination televisive di questa edizione.
Tra i potenziali vincitori ci sono alcune delle novità più apprezzate di questa stagione: Westworld, Stranger Things, This Is Us e Atlanta.
Tra i titoli che hanno ricevuto più nomination anche Better Call Saul, lo spinoff di Breaking Bad, e Unbreakable Kimmy Schmidt, la comedy targata Netflix.
Ecco tutte le nomination:
Miglior Serie Drammatica
The Americans - Scritta da Peter Ackerman, Tanya Barfield, Joshua Brand, Joel Fields, Stephen Schiff, Joe Weisberg
Better Caul Saul - Scritta da Ann Cherkis, Vince Gilligan, Jonathan Glatzer, Peter Gould, Gennifer Hutchison, Heather Marion, Thomas Schnauz, Gordon Smith
Il trono di spade - Scritta da David Benioff, Bryan Cogman, Dave Hill, D.B. Weiss
Stranger Things - Scritta da Paul Dichter, Justin Doble, i fratelli Duffer, Jessica Mecklenburg, Jessie Nickson-Lopez, Alison Tatlock
Westworld - Scritta da Ed Brubaker, Bridget Carpenter; Dan Dietz, Halley Gross, Lisa Joy, Katherine Lingenfelter, Dominic Mitchell, Jonathan Nolan, Roberto Patino, Daniel T. Thomsen, Charles Yu
Miglior Comedy
Atlanta - Scritta da Donald Glover, Stephen Glover, Stefani Robinson, Paul Simms Silicon Valley - Scritta da Megan Amram, Alec Berg, Donick Cary, Adam Countee, Jonathan Dotan, Mike Judge, Carrie Kemper, John Levenstein, Dan Lyons, Carson Mell, Dan O'Keefe, Clay Tarver, Ron Weiner
Transparent - Scritta da Arabella Anderson, Bridget Bedard, Micah Fitzerman-Blue, Noah Harpster, Jessi Klein, Stephanie Kornick, Ethan Kuperberg, Ali Liebegott, Our Lady J, Faith Soloway, Jill Soloway
Unbreakable Kimmy Schmidt - Scritta da Emily Altman, Robert Carlock, Azie Mira Dungey, Tina Fey, Lauren Gurganous, Sam Means, Dylan Morgan, Marlena Rodriguez, Dan Rubin, Meredith Scardino, Josh Siegal, Allison Silverman, Leila Strachan
Veep - Scritta da Rachel Axler, Sean Gray, Alex Gregory, Peter Huyck, Eric Kenward, Billy Kimball, Steve Koren, David Mandel, Jim Margolis, Lew Morton, Georgia Pritchett, Will Smith, Alexis Wilkinson
Miglior Nuova Serie
Atlanta
Better Things
Stranger Things
This Is Us
Westworld
Miglior Sceneggiatura Originale per una Miniserie, Serie Limitata o Film Tv
American Crime - Scritta da Julie Hébert, Sonay Hoffman, Keith Huff, Stacy A. Littlejohn, Kirk A. Moore, Davy Perez, Diana Son
Confirmation - Scritta da Susannah Grant
Harley and the Davidsons - Scritta da Seth Fisher, Nick Schenk, Evan Wright
Surviving Compton: Dre, Suge & Michel'le - Scritta da Dianne Houston
Miglior Sceneggiatura Non Originale di una Miniserie, Serie limitata o Film tv
22.11.63 - Scritta da Bridget Carpenter, Brigitte Hales, Joe Henderson, Brian Nelson, Quinton Peeples, basata sul romanzo scritto da Stephen King
American Crime Story: The People vs. O.J. Simpson - Scritta da Scott Alexander, Joe Robert Cole, D.V. DeVincentis, Maya Forbes, Larry Karaszewski, Wally Wolodarsky, basata sul libro The Run of His Life scritto da Jeffrey Toobin
Madoff - Scritta da Ben Robbins, basata sul libro The Madoff Chronicles: Inside the Secret World of Bernie and Ruth scritto da Brian Ross
The Night Of - Scritta da Richard Price, Steve Zaillian, basata sulla serie della BBC Criminal Justice creata da Peter Moffat
Roots - Scritta da Lawrence Konner, Alison McDonald, Charles Murray, Mark Rosenthal, basata sul libro scritto da Alex Haley.
Miglior Sceneggiatura originale per New Media
Episode 101 - Now We're Talking - Scritta da Tug Coker, Tommy Dewey
Escape the Room - Life Ends at 30 - Scritta da Michael Field
Itsy Bitsy Spider Episode 1 - Thug Passion - Scritta da Motrya Tomycz
The Party - The Commute - Scritta da Linsey Stewart e Dane Clark.
Miglior Sceneggiatura non originale per New Media
Passage Part 4 - Fear The Walking Dead - Scritta da Lauren Signorino e Mike Zunic
Under Siege - The Strain - Scritta da Bradley Thompson e David Weddle, basato sui romanzi scritti da Guillermo del Toro e Chuck Hogan
Miglior Episodio di una serie animata
Barthood - I Simpson - Scritto da Dan Greaney
First Day of Rule - Elena of Avalor - Scritto da Craig Gerber
Fish Out of Water - BoJack Horseman - Scritto da Elijah Aron e Jordan Young
A Princess on Lothal - Star Wars Rebels - Scritto da Steven Melching
Stop the Presses - BoJack Horseman - Scritto da Joe Lawson
Miglior Episodio di una Serie Drammatica
Gloves Off - Better Call Saul - Scritto da Gordon Smith
I Am a Storm - Shameless - Scritto da Sheila Callaghan
Klick - Better Call Saul - Scritto da Heather Marion e Vince Gilligan
Switch - Better Call Saul - Scritto da Thomas Schnauz
The Trip - This Is Us - Scritto da Vera Herbert
The Winds of Winter - Il Trono di Spade - Scritto da David Benioff e D.B. Weiss
Miglior Episodio di una Serie Comedy
Kimmy Finds Her Mom! - Unbreakable Kimmy Schmidt - Scritto da Tina Fey e Sam Means
Kimmy Goes on a Playdate! - Unbreakable Kimmy Schmidt - Scritto da Robert Carlock
Pilot - One Mississippi - Scritto da Diablo Cody e Tig Notaro
R-A-Y-C-Ray-Cation - Speechless - Scritto da Carrie Rosen e Seth Kurland
Streets on Lock - Atlanta - Scritto da Stephen Glover
A Taste of Zephyria - Son of Zorn - Scritto da Dan Mintz