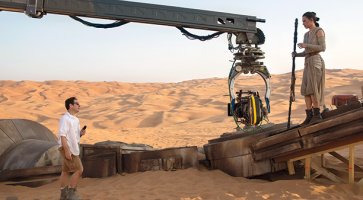 MTV Movie Awards 2016: undici nomination per Star Wars!
Incetta di riconoscimenti per Il risveglio della Forza e Deadpool. Di seguito tutte le nomination!
C'è grande attesa per gli MTV Movie Awards 2016 che si svolgeranno il prossimo 10 Aprile dagli Studi della Warner Bros. Tanti i film e le star candidate, tanti i riconoscimenti per un anno cinematogtrafico all'insegna della fantascienza e dei cinecomics.
Leggi anche: "Mamma, mi si è Risvegliata la Forza": racconto semiserio di un redattore che non conosce(va) Star Wars
Ben 11 nomination per Star Wars: Il risveglio della forza, fra cui Movie of the Year e Miglior interpretazione femminile e, confermandosi uno fra i film più redditizi e chiacchierati dell'anno. C'è spazio anche per il fenomeno Deadpool che è in corsa con ben 5 nomination tra cui quella per il miglior bacio, e poi Chris Pratt, Revenant - Redivivo e tanto altro ancora
Presentata da Dwayne Johnson e Kevin Hart la cerimonia quest'anno festeggia i 25 anni di attività.
Di seguito tutti i candidati e che vinca il migliore!
Movie of the Year
Avengers: Age of Ultron

Creed

Deadpool

Jurassic World

Star Wars: The Force Awakens

Straight Outta Compton
True Story (pellicole tratte da una storia vera)
Concussion

Joy

Steve Jobs

Straight Outta Compton

The Big Short

The Revenant
Documentari
Amy

Cartel Land

He Named Me Malala

The Hunting Ground

The Wolfpack

What Happened, Miss Simone?
Miglior interpretazione femminile
Alicia Vikander, Ex Machina

Anna Kendrick, Pitch Perfect 2

Charlize Theron, Mad Max: Fury Road

Daisy Ridley, Star Wars: The Force Awakens

Jennifer Lawrence, Joy

Morena Baccarin, Deadpool
Miglior interpretazione maschile
Chris Pratt, Jurassic World

Leonardo DiCaprio, The Revenant

Matt Damon, The Martian

Michael B. Jordan, Creed

Ryan Reynolds, Deadpool

Will Smith, Concussion
Miglior debutto
Amy Schumer, Trainwreck

Brie Larson, Room

Daisy Ridley, Star Wars: The Force Awakens

Dakota Johnson, Fifty Shades of Grey

John Boyega, Star Wars: The Force Awakens

O'Shea Jackson Jr., Straight Outta Compton
Miglior performance comica
Amy Schumer, Trainwreck

Kevin Hart, Ride Along 2

Melissa McCarthy, Spy

Rebel Wilson, Pitch Perfect 2

Ryan Reynolds, Deadpool

Will Ferrell, Get Hard
Miglior performance action
Chris Pratt, Jurassic World

Dwayne Johnson, San Andreas

Jennifer Lawrence, The Hunger Games: Mockingjay - Part 2

John Boyega, Star Wars: The Force Awakens

Ryan Reynolds, Deadpool

Vin Diesel, Furious 7
Best Hero
Charlize Theron, Mad Max: Fury Road

Chris Evans, Avengers: Age of Ultron

Daisy Ridley, Star Wars: The Force Awakens

Dwayne Johnson, San Andreas

Jennifer Lawrence, The Hunger Games: Mockingjay - Part 2

Paul Rudd, Ant-Man
Best Villain
Adam Driver, Star Wars: The Force Awakens

Ed Skrein, Deadpool

Hugh Keays-Byrne, Mad Max: Fury Road

James Spader, Avengers: Age of Ultron

Samuel L. Jackson, Kingsman: The Secret Service

Tom Hardy, The Revenant
Miglior performance virtuale
Amy Poehler, Inside Out

Andy Serkis, Star Wars: The Force Awakens

Jack Black, Kung Fu Panda 3

James Spader, Avengers: Age of Ultron

Lupita Nyong'o, Star Wars: The Force Awakens

Seth MacFarlane, Ted 2
Miglior ensemble
Avengers: Age of Ultron

Furious 7

Pitch Perfect 2

Star Wars: The Force Awakens

The Hunger Games: Mockingjay - Part 2

Trainwreck
Miglior bacio
Amy Schumer & Bill Hader, Trainwreck

Dakota Johnson & Jamie Dornan, Fifty Shades of Grey

Leslie Mann & Chris Hemsworth, Vacation

Margot Robbie & Will Smith, Focus

Morena Baccarin & Ryan Reynolds, Deadpool

Rebel Wilson & Adam DeVine, Pitch Perfect 2
Miglior scena di lotta
Deadpool (Ryan Reynolds) vs. Ajax (Ed Skrein), Deadpool

Hugh Glass (Leonardo DiCaprio) vs. The Bear, The Revenant

Imperator Furiosa (Charlize Theron) vs. Max Rockatansky (Tom Hardy), Mad Max: Fury Road

Iron Man (Robert Downey Jr.) vs. Hulk (Mark Ruffalo), Avengers: Age of Ultron

Rey (Daisy Ridley) vs. Kylo Ren (Adam Driver), Star Wars: The Force Awakens

Susan Cooper (Melissa McCarthy) vs. Lia (Nargis Fakhri), Spy