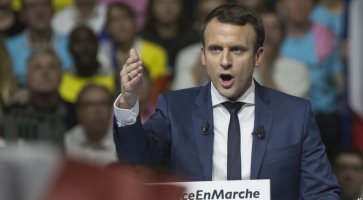 Emmanuel Macron: le reazioni di Hollywood al nuovo presidente di Francia, da Madonna a... Donald Trump
Il neo-presidente della Francia non è festeggiato solo in patria, ma anche negli Stati Uniti molti vip sono soddisfatti del risultato: ecco i primi commenti direttamente da Twitter
La Francia ha tenuto le sue elezioni presidenziali, che hanno portato alla vittoria il centrista Emmanuel Macron su Marine Le Pen. Dopo le elezioni americane e la Brexit, il mondo aveva gli occhi puntati su questo risultato, tra cui anche Hollywood e gli Stati Uniti, che hanno subito commentato, da Debra Messing a Madonna, da RuPaul a Cher.
Thank you FRANCE!!!!! MACRON WON BY 65% of the vote!!!!!

— Debra Messing (@DebraMessing) 7 maggio 2017
Vive La France! https://t.co/YQSEfUosTf

— RuPaul (@RuPaul) 7 maggio 2017
Liberté Égalité Fraternité #Macron https://t.co/eEoMU37hTu

— Sophia Bush (@SophiaBush) 7 maggio 2017
Whippin in the kitchen!!! Vive La France!! pic.twitter.com/y59RIYRBWb

— Madonna (@Madonna) 7 maggio 2017
Beloved,Beautiful,You've Not Been Cowered,You've Shown The"French Courage" VIVRE EN MARCHE Bonne Chance Avec L'assemblée Nationale

— Cher (@cher) 7 maggio 2017
Congratulations to the French people and their new President Emmanuel Macron!!

— Mia Farrow (@MiaFarrow) 7 maggio 2017
vive la france!!!!!!! BRAVO to all of my french friends who voted for humanity, compassion and empathy #MACRON pic.twitter.com/IhwnWfei5H

— Belinda Carlisle (@belindaofficial) 7 maggio 2017
Altri, come Ava DuVernay e Chelsea Handler, hanno espresso la loro gioia e un pizzico di invidia, visto come sono andate le elezioni americane:
Dope. And won't lie. I'm jealous. #Macron https://t.co/5AGWqxe0wL

— Ava DuVernay (@ava) 7 maggio 2017
I've been a stubborn hold-out but after today I'm gonna start calling Freedom fries French fries again.

— Seth Meyers (@sethmeyers) 7 maggio 2017
Vive le France!!!!! Oh, how happy this makes your friends in the United States. You voted for moving forward. #neverback

— Chelsea Handler (@chelseahandler) 7 maggio 2017
obama won in france! #goldmanSachs #soros

— Roseanne Barr (@therealroseanne) 7 maggio 2017
Anche il presidente degli Stati Uniti Donald Trump ha commentato la vittoria schiacciante di Macron:
Congratulations to Emmanuel Macron on his big win today as the next President of France. I look very much forward to working with him!

— Donald J. Trump (@realDonaldTrump) 7 maggio 2017
Continua a seguirci su Facebook, Twitter, Instagram, Youtube, Google+ e Telegram per aggiornamenti, notizie, e curiosità su film e serie TV!