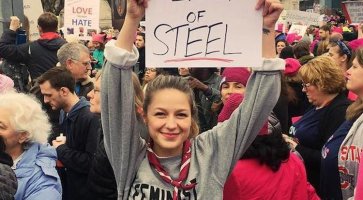 Supergirl, Scarlett Johansson, Madonna, e le altre star alla Marcia delle Donne
Il giorno dopo l'insediamento di Donald Trump alla Casa Bianca, è stata organizzata la Marcia delle Donne in tutte le più grandi città americane e del mondo, iniziativa che ha raccolto grandiosa affluenza, con molte star che hanno partecipato nella folla.
Almeno 500 mila persone si sono riversate per le strade di Washington D.C., mentre altri due milioni si sono riunite nelle altre città del mondo, da Boston a New York, da Milano a Londra per la Women's March, una marcia contro le discriminazioni sulla donna, più di una semplice espressione di protesta verso il nuovo presidente.
In mezzo all'eterogenea folla che si è riunta per lanciare un segnale alla presidenza Trump, molte star hanno trovato tempo e modo di dare il loro appoggio, con un discorso o semplicemente con una presenza.
Tra i partecipanti Scarlett Johansson, James Franco, Jane Fonda, Charlize Theron, Ian McKellen, Jake Gyllenhaal, Madonna, Cher e Julianne Moore.
Scarlett Johansson to Trump: "I want to be able to support you, but first, I ask that you support me" and all women https://t.co/FPEnoiqxov

— MSNBC (@MSNBC) 21 gennaio 2017
Representing here at Sundance !#womensmarch #marchonmain pic.twitter.com/oqEalezNJh

— Charlize Theron (@CharlizeAfrica) 21 gennaio 2017
.@happyhippiefdn @womensmarch @womensmarchla #womensmarchla #WMLA #whyimarch #hearourvoice #hh4pp pic.twitter.com/hEyG61So60

— Miley Ray Cyrus (@MileyCyrus) 21 gennaio 2017
New HQ photos of Miley with Jane Fonda and Marcia Gay Harden at The Women's March in LA today! pic.twitter.com/Qn4CYOna3k

— Miley News Source (@MCNewsSource) 21 gennaio 2017
No matter where you were today... We sent a powerful message! https://t.co/vj0j1Xvxvy #WomensMarch #WhyIMarch #WomensRightsAreHumanRights pic.twitter.com/wd8wM7D5hV

— Alicia Keys (@aliciakeys) 21 gennaio 2017
Emma Watson ha intervistato persone a caso tra la folla alla Marcia delle Donne - Washington, 21.01.17 pic.twitter.com/rBSm1H4Ieu

— Emma Watson ITALY (@EmWatsonITALY) 21 gennaio 2017
Jake Gyllenhaal listens to speakers at the #WomensMarch pic.twitter.com/PNKjhvOBK9

— Jake Gyllenhaal BR (@gyllenhaalbr) 21 gennaio 2017
With My Girl Amy at the Women's March in D.C. We Go Hard or We Go Home. pic.twitter.com/st68AeZ3HQ

— Madonna (@Madonna) 21 gennaio 2017
Best day. #WomensMarchOnWashington @Everytown @MomsDemand pic.twitter.com/tSIP0HXhET

— Julianne Moore (@_juliannemoore) 21 gennaio 2017
Infine da segnalare il cartello portato da Melissa Benoist, l'interprete della serie tv Supergirl, che ha specificato di non provare ad afferrargliela (citando delle parole di Donald Trump) perchè tanto è fatta di metallo.
Una foto pubblicata da Melissa Benoist (@melissabenoist) in data: 21 Gen 2017 alle ore 07:43 PST
Continua a seguirci su Facebook, Twitter, Instagram, Youtube, Google+ e Telegram per aggiornamenti, notizie, e curiosità su film e serie TV!