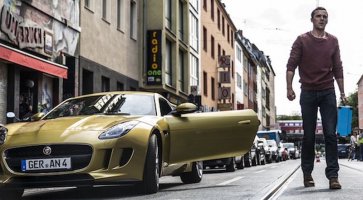 Autobahn: Nicholas Hoult e Felicity Jones nel frenetico trailer
Nel cast del film all british, ma ambientato in Germania, anche i veterani Anthony Hopkins e Ben Kingsley.
IM Global e Open Road Films hanno diffuso il trailer di Autobahn - Fuori controllo, thriller ad alta velocità che vede nel cast le star britanniche Nicholas Hoult, Felicity Jones, Anthony Hopkins e Ben Kingsley.
Il regista di Welcome To the Punch Eran Creevy ha diretto la pellicola incentrata su una coppia di giovani americani formata da Casey Stein (Hoult) e Juliette (Jones). I due, che si trovano in Germania, vengono incastrati in una rete di inganni e trappole ordita da due feroci criminali (Hopkins e Kingsley).
Autobahn è stato girato in Germania. Il film è prodotto da Ben Pugh e Rory Aitken con Brian Kavanaugh-Jones.