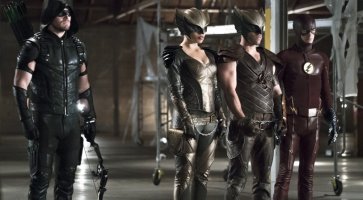 Arrow, The Flash: il trailer del crossover
Svelati promo e trame dei due episodi che vedranno incrociarsi i destini del team di Barry Allen e di Oliver Queen.
The CW ha diffuso un trailer del preannunciato crossover tra le serie DC Comics Arrow e The Flash.
L'episodio del crossover contenuto in The Flash si intitola Legends of Today. Vandal Savage (la guest star Casper Crump) arriva a Central City e mette gli occhi su Kendra Saunders (la guest star Ciara Renée). Dopo che Vandal attacca Kendra e Cisco, i due si rivolgono a Barry affinché li aiuti. Barry comprende la pericolosità di Vandal e conduce Kendra a Star City per chiedere aiuto a Oliver e al suo team. La situazione, però, precipita quando un uomo alato - Hawkman (la guest star Falk Hentschel) - compare all'improvviso e vola via con Kendra. Nel frattempo, Harrison sviluppa un siero per far diventare Barry ancora più veloce e chiede a Jay (la guest star Teddy Sears) di testarlo.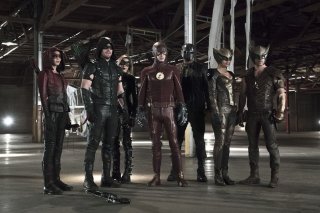 L'episodio del crossover in Arrow si intitola, invece, Legends of Yesterday. Oliver e Barry Allen portano Kendra Saunders e Carter Hall in una location remota per nasconderli da Vandal Savage mentre prendono tempo e pensano a trovare un modo per neutralizzarlo. Malcolm organizza un incontro tra Vandal, Green Arrow e The Flash, ma le cose non vanno come previsto. Nel frattempo Felicity, Thea, Diggle e Laurel collaborano con il Team Flash per creare un'arma abbastanza potente da distruggere Vandal Savage.