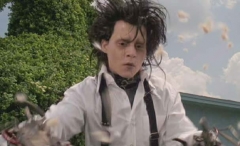 La colonna sonora di Edward mani di forbice
Una delle migliori opere di Danny Elfman per lo score del fortunato Edward Scissorhands.
Sono in molti a ritenere Edward Scissorhands opme uno dei migliori score realizzati da Danny Elfman.
Il tema portante è assolutamente incantevole e l'utilizzo di un coro femminile conferisce all'opera un'atmosfera quasi natalizia, evidenziata anche dalla copertina.
Quasi tutte le tracce sono molto romantiche, con quel retrogusto triste e malinconico che relega il soundtrack ad ascolti prevalentemente invernali.
L'ultima traccia, With These Hands, è eseguita da Tom Jones, e nulla aggiunge allo splendido lavoro svolto da Elfman.

Soundtrack
---

Edward mani di forbice

Etichetta:

MCA
---
1.
<b>Introduction (titles)</b>
3.
<b>Castle on the hill</b>
4.
<b>Beautiful new world / Home sweet home</b>
5.
<b>The cookie factory</b>
6.
<b>Ballet de suburbia (suite)</b>
8.
<b>Etiquette lesson</b>
9.
<b>Edwardo the barber</b>
12.
<b>The tide turns (suite)</b>
13.
<b>The final confrontation</b>
15.
<b>The grand finale</b>
17.
<b>With these hands</b>