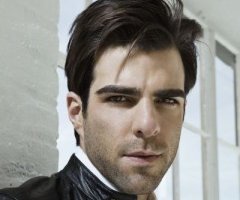 Zachary Quinto in The Girl Who Invented Kissing
Ad affiancare l'interprete di 'Spok' in questa misteriosa romcom Natalie Dormer e Stephen Graham.
Lo scrittore e regista Tom Sierchio si prepara a dirigere un dramma indie dal suggestivo titolo The Girl Who Invented Kissing. Gli attori Zachary Quinto, Natalie Dormer, Adelaide Clemens e Stephen Graham si sono appena uniti al cast affiancando il preannunciato Timothy Simons. The Girl Who Invented Kissing esplora gli eventi che accadono quando due fratelli, durante una notte piovosa, incontrano un misterioso vagabondo in un bar. Cybill Lui e George Zakk produrranno il film.
Di recente abbiamo apprezzato Zachary Quinto per la seconda volta nelle vesti di Spok in Into Darkness - Star Trek. L'attore ha da poco concluso le riprese della commedia We'll Never Have Paris, dove affianca Maggie Grace.