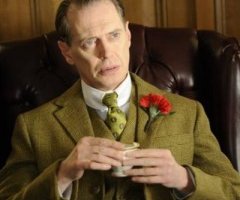 WGA 2011: le nomination televisive
Annunciate le nomination del sindacato hollywoodiano degli sceneggiatori per quanto riguarda l'ambito televisivo: la novità di rilievo si chiama Boardwalk Empire.
Sono state annunciate le nomination di ambito televisivo del Writers Guild, uno dei principali sindacati di Hollywood; e la novità più importante per quest'anno, per quanto riguarda le serie drammatiche, è Boardwalk Empire, forse il singolo nuovo show più atteso dell'anno grazie ai nomi illustri che compongono cast, crew e team di produzione, che va prendere il posto di una serie il cui capitolo finale, evidentemente, non ha conquistato gli screenwriter: naturalmente parliamo di Lost, che si consola con una nomination per il solo episodio La fine. Le altre drama series in nomination nella categoria principale sono le stesse "sicurezze" dell'edizione 2010 dei WGA: Mad Men, Breaking Bad, Dexter e High School Team - Friday Night Lights.
Tra le comedy series, Nurse Jackie, medical con protagonista l'infermiera Edie Falco, eredita lo slot di Curb Your Enthusiasm accanto a Modern Family, 30 Rock, The Office e Glee, mentre nella categoria dedicata ai nuovi show appaiono, oltre a Boardwalk Empire, anche Justified, Men of a Certain Age, Treme e The Walking Dead.
Per quanto riguarda miniserie e film TV, le candidature per i soggetti originali vanno a I due presidenti e a You Don't Know Jack, quelle per gli adattamenti a Temple Grandin - Una donna straordinaria, I pilastri della Terra e a The Pacific, in nomination per il quarto e per l'ottavo episodio.
Ma ecco tutte le candidature televisive ai WGA 2011:

WGA 2011: lista nomination
---