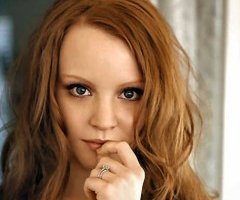 Una comune hippie per Lauren Ambrose
La rossa attrice affiancherà Paul Rudd, Jennifer Aniston e Justin Theroux nell'esilarante Wanderlust.
La rossa star di Six Feet Under Lauren Ambrose affiancherà Paul Rudd, Justin Theroux e la star Jennifer Aniston nella commedia Wanderlust, diretta da David Wain.
Nel film la Aniston e Paul Rudd vestono i panni di una coppia che vive in città, ma decide di fermarsi in un bed & breakfast rurale. Ben presto i due scopriranno che si tratta in realtà di una comune di nudisti fumatori d'erba dediti al sesso collettivo. Lauren Ambrose vestirà i panni di una residente della comune.
Di recente l'attrice, veterana del palcoscenico, è apparsa a Broadway in Awake and Sing! e ha recitato nelle produzioni di Amleto e Romeo e Giulietta della Shakespeare in the Central Park. Prossimamente la vedremo a fianco di Ethan Hawke e Rutger Hauer nel drammatico Tonight at Noon.