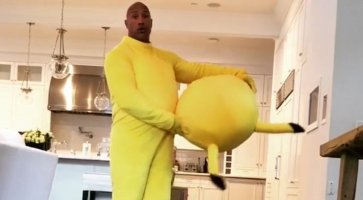 The Rock passa la Pasqua vestito da Pikachu e svela la folle dieta per Fast & Furious 8
L'attore ha preso 10 chili di muscoli per sembrare più "minaccioso" nel ruolo di Hobbs, ma ha trovato un modo rapido per dimagrire.
Ogni volta che lo vediamo in un film, Dwayne Johnson sempre sempre più massiccio. Per il ruolo di Hobbs in Fast & Furious 8, The Rock ha messo su 10 chili di muscoli in più e come è sua tradizione ha condiviso sui social gli allenamenti e la folle dieta che ha seguito per ottenere tale risultato.
Come spiega l'attore, per Fast & Furious 8 "volevo interpretare la versione più cattiva, forte e divertente di Luke Hobbs mai vista nel franchise". Così The Rock ha intrapreso massicce sedute di allenamento per passare dai 107 chili di peso di Baywatch ai 117 di Hobbs.
Come spiega The Rock su Instagram, la dieta che ha seguito per mettere su massa, prevedeva una colazione mattutina a base di uova, bufalo e 80 grammi di crema di frumento. L'attore doveva ingurgitare 6.000 calorie al giorno, e a volte si concedeva uno spuntino di mezzanotte a base di french toast e torta di mele.
Mettere su ulteriore massa muscolare per il ruolo di Luke Hobbs è stata una faticaccia, ma a quanto pare il giorno di Pasqua di The Rock è stato ancor più stancante. Per fare una sorpresa alla figlia Jasmine di 16 mesi l'attore ha deciso di indossare il costume del personaggio preferito della piccola, il Pokemon Pikachu. Con il pesante costume, l'attore ha dovuto correre per due ore su e giù dietro alla figlia. In confronto l'allenamento in palestra sembra decisamente più riposante.
"La prima volta che il personaggio preferito di Jasmine, Pikachu, è venuto a farle visita, lei gattonava. Per Pasqua io e la mia compagna abbiamo pensato che Pikachu sarebbe potuto tornare per farle una visita speciale. Quello che Pikachu non aveva pensato è che adesso Jazzy CORRE e per due ore ha voluto giocare al suo gioco preferito, 'Io corro e tu, Pikachu, mi insegui. E non ti sarà permesso di riposarti fino a che io non andrò a dormire. Sono stanco, oggi è il mio unico giorno libero, in questo costume ci sono 118 gradi e Hobbs, il mio cane, sta cercando di fare la pipì sulla mia gamba. E adoro ogni minuto. E' ciò che fanno i padri".
Leggi anche:
Continua a seguirci su Facebook, Twitter, Instagram, Youtube, Google+ e Telegram per aggiornamenti, notizie, e curiosità su film e serie TV!