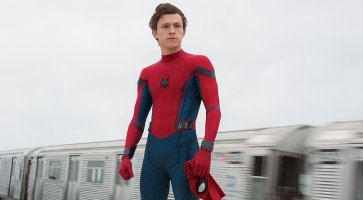 Spider-Man: Homecoming, ecco le prime reazioni della stampa americana!
Dopo l'anteprima di qualche giorno fa, la stampa americana si è scatenata sui social per commentare il nuovo capitolo del Marvel Cinematic Universe, che raccoglie giudizi per lo più molto positivi, ma anche qualche critica.
Dopo due franchise iniziati e terminati, Sony e Marvel hanno trovato un accordo per portare di nuovo sullo schermo Peter Parker, stavolta nel Marvel Cinematic Universe. Spider-Man: Homecoming è stato presentato finalmente alla stampa americana, che sta iniziando a mostrare le sue reazioni sui social network, e a primo impatto le reazioni sono per lo più positive, con qualche critica ma molto entusiasmo sul nuovo Uomo Ragno Tom Holland:
Spider-Man: Homecoming is a blast. It has an innocence that differentiates it from the other MCU movies but plenty of fun & spectacle too.

— Germain Lussier (@GermainLussier) 24 giugno 2017
#SpidermanHomecoming is your friendly, fun, Tony Stark-powered neighborhood Spider-Man movie pic.twitter.com/ZW7bKikcj1

— Chris Sylvia (@sylvioso) 24 giugno 2017
REVIEW: #SpiderManHomecoming:
- 91/100
- @TomHolland1996 = best ever
- Keaton is fantastic
- Loads of fun/well paced
- Great plot points pic.twitter.com/dPX7wptFOE

— Jeff D Lowe (@JeffDLowe) 24 giugno 2017
#SpiderManHomecoming is the third best Spider-Man movie. The cast is great, the tone is affable, the drama is... a little thin, honestly.

— William Bibbiani (@WilliamBibbiani) 24 giugno 2017
#SpiderManHomecoming is SO MUCH FUN. The action is BADASS. Tom Holland is THE BEST Peter Parker hands down. I'm pumped after seeing it

— Molly Freeman (@mollyrockit) 24 giugno 2017
Spider-Man: Homecoming...

My new favorite super hero movie of all time.

— Brandon Davis (@BrandonDavisBD) 24 giugno 2017
#SpiderManHomecoming is my favorite Marvel movie. Full stop. Spidey is home at Marvel. Best action in ANY Spidey. A non-stop thrill. LOVE

— Sean O'Connell (@Sean_OConnell) 24 giugno 2017
#SpiderManHomecoming is SUCH a good time. Fun, inventive action w/ some of the best humor in a Marvel film yet. Great start for MCU Spidey! pic.twitter.com/8kTnG6wtO2

— ErikDavis (@ErikDavis) 24 giugno 2017
Nel cast di Spider-Man: Homecoming, in uscita il 7 luglio e diretto da Jon Watts, troviamo Marisa Tomei (Zia May), Michael Keaton nella parte del villain, Kenneth Choi che interpreterà il preside della scuola di Peter, e Zendaya Coleman nei panni di Michelle. In più Donald Glover, Michael Barbieri, Laura Harrier, Tony Revolori, Abraham Attah, Hannibal Buress, Isabella Amara, Jorge Lendeborg Jr., Michael Chernus e J.J. Totah.
Continua a seguirci su Facebook, Twitter, Instagram, Youtube, Google+ e Telegram per aggiornamenti, notizie, e curiosità su film e serie TV!